Subscribe to future posts here

Sailfish OS update from Jolla
Regular denizens of the forum surely can't have failed to notice that Jolla turned ten years old this last week. On the 14th October to be exact. That's an incredible milestone for any company, but especially for a small company, building an entire operating system, and competing against some of the wealthiest companies on earth.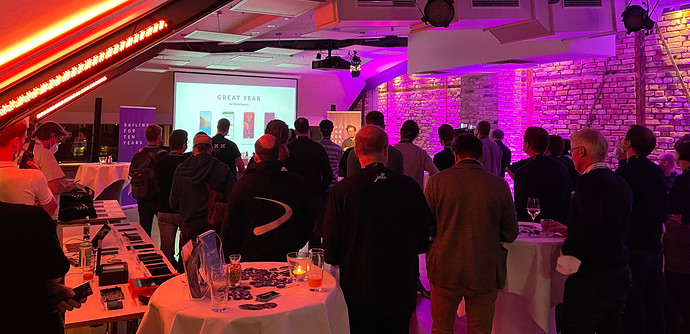 To mark the occasion Jolla's tenth birthday was celebrated by many sailors and community members at a birthday bash in Berlin. It was great to see so many community members there, and if you were able to make it, then I hope you enjoyed meeting us as much as we enjoyed meeting you.
During the event Sami Pienimäki, who you'll know as CEO of Jolla, gave a fascinating presentation about the history of the company. If you weren't able to make it you can still view it on the Facebook Live Event recording.
There you'll also be able to watch Joona Petrell's excellent and detailed presentation looking back at 2021, and looking beyond to the future.
There were so many big announcements in these two presentations that what would normally be worth an article each in their own right, I'm going to have to list as bullet points. You can also check out many of these in Sami's recent Birthday blog post, which I strongly recommend you have a read of if you haven't already.
Sailfish X International Expansion. Until now sales of Sailfish X have been restricted to EU countries, but from early 2022 we'll be expanding this to several new markets, including the US, Australia and New Zealand. I'm particularly happy to see that sales will also once again be extended to cover the UK, since these had been restricted recently as a consequence of Brexit.

Sony Xperia 10 III support. The next officially supported device has been confirmed as the Sony Xperia 10 III. It's a great device and a nice upgrade over the Xperia 10 II with a larger battery, faster processor, increased RAM, and 5G support amongst other improvements. Early indicators suggest Sailfish will run on it beautifully, with a nice speed increase over the Xperia 10 II.

Web Authorisation API. This utilises the WebView released in Sailfish OS 4.2.0 in order to allow 3rd party developers to easily integrate OAuth authentication into their apps. Most modern web-based APIs, and particularly REST APIs, require OAuth authentication to be used. While it's always been possible to 'roll your own' using the previous WebView component (or even the browser), this makes the whole process seamless and properly integrated into the OS. This is due to be released with Sailfish OS 4.3.0.

MPRIS API. The MPRIS API allows apps to make use of the global audio and multimedia controls (e.g. those that appear on the lockscreen). Any app that declares itself as MPRIS compatible can be controlled this way, as can Bluetooth devices which use the same interface. While the MPRIS API has existed for some time, until now it's had a few rough edges and so wasn't allowed in the Jolla Store. We've been working on removing these rough edges, which we're expecting to have shaved off ready for the Sailfish OS 4.4.0 release, at which point it will be allowed for use in the Store.

Browser upgrade to ESR78. Currently the Sailfish Browser uses the gecko ESR60 engine (ESR being short for "Extended Service Release"). We're well on the way to upgrading this to ESR78, a big step forwards that will provide improved compatibility with websites, many security fixes, and increased speed. The faster rendering comes partly from the improved Project Quantum CSS engine that will be enabled for the first time with the release. As well as the engine upgrade, we also have many user interface improvements in the pipeline, hopefully addressing some of the issues you've raised in the Browser redesign feedback thread on the forum.

Improved Android App Support. Sailfish OS 4.3.0 will have a signed system image for Android App Support. This should allow apps that previously complained about not running on a rooted device to work correctly. This should, for example, allow certain banking apps to run that previously refused to.

Alphanumeric encryption. As we discussed in the previous newsletter, Rinigus has done some amazing work on alphanumeric passphrases for home encryption. Given how much interest it's generated, we're really happy therefore that alphanumeric encryption will be coming to the officially-supported Xperia devices in an upcoming update.

VoLTE. Support for VoLTE secure calls and messaging has been one of the most asked-for features on the forum. It's a particularly tricky technology to implement for many reasons, not least because it's tied up with device and operator implementations. However, we have VoLTE communication in the works and are hoping to release support on some devices in early 2022.
That's really a lot of exciting stuff to look forward to. And don't forget that now is also a particularly good time to take the plunge and get yourself a Sailfish X licence, with the 10 Year Special Discount bringing the price down from €49.90 to €34.90 for a limited time.
At the event in Berlin we announced the results of the Sailfish Community Awards which you all voted for in such great numbers. Thank you to everyone who voted. And thank you — and congratulations — to the four very-well-deserved winners: dcaliste, piggz, atlochowski and rinigus.
Finally, although the event in Berlin has passed, the celebrations are not over! We will be celebrating Jolla's 10th Anniversary again in Helsinki on the 28th October and you are once again welcome to join us. We really hope to see you there.
We have a special Birthday Bash issue planned for the next newsletter, where we'll give some insight into how the event was planned, and a look at the process used to develop the designs for the celebrations. Nico Cartron (cartron) will also be giving us his first-hand community-perspective on the events that took place in Berlin. We're looking forward to sharing it all with you.
Energy from the Community
As mentioned above, Nico Cartron was our roaming reporter at Jolla's anniversary event in Berlin. He'll be giving his take on the events in the next newsletter, so that even if you couldn't make it yourself, you'll still be able to get a flavour of the experience. But Nico is also planning to create his own experience for Sailfish OS community members in France, with the Sailfish OS Francophonie Meetup.
If you think you might be close enough to attend yourself, fill out the poll to help with planning. You can find the poll from Nico's forum post linked above.
We're looking forward to finding out what's planned, and hearing about how the event goes. If you're interested in planning an event like this in your area, get in touch so we can publicise it in the newsletter.
On top of all this you've all still been updating and publishing your apps of course. As usual we've picked out four to try out in more detail below. And as usual it reminded us of how varied and interesting the apps available for Sailfish OS are.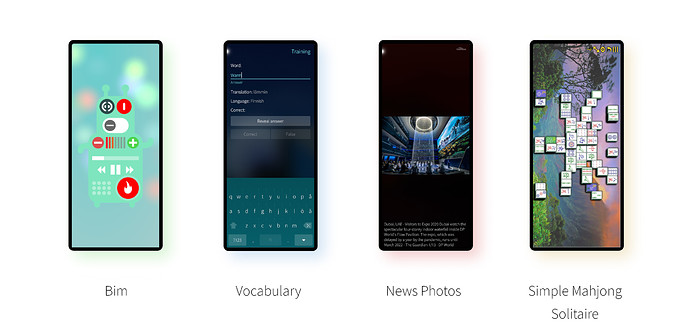 Bim
Bim by Joona Petrell (jpetrell), built in collaboration with Jani, Usva, Kosmo and Havu, is a brand new release available from the Jolla Store. It's one of the slickest, most colourful and most complex apps that we've yet covered in the newsletter. But what… exactly… is it? Is it a children's game? A musical instrument? A drawing app? A graphical demo? An showcase for interactive hint design? The product of an overactive imagination? Maybe it's all of these things? But none of them on their own quite captures the essence of Bim. Perhaps it's captured best by spaceumko's comment in the store: "This is pure art!".
So, we're clear on the fact that I don't know what Bim is. But let me also be clear that I've been enjoying playing with it. Although Joona created it for his kids to play with, once I overcame my confusion, I found playing with the various toys to be a calming experience.
Bim is made up of eight main pages. Each page provides a colourful array of images, buttons and sounds. Almost everything in Bim is interactive, and many of the elements are also cumulative. So while pressing the play button will send the robot on one page into an energetic jig, that doesn't stop you from summoning a flock of birds at the same time by touching the space around the robot. This interactive parallelism makes everything feel so responsive and fluid
In addition to dancing robots, you also have bubbles apparently floating in a pool of water that can be popped with a tap; a page full of letters, numbers and clocks, each a button to trigger different actions; a spaceship cockpit from within which you can launch missiles, perform barrel rolls, and enter alien codes; a set of colourful drawing canvases each made up of different tessellating shapes; a drum machine sequencer; a pattern-based piano; and an interactive image-and-sound palette. Each of them is packed full of colourful surprises. None of them act exactly as you might expect. All in a very good way.
So, while I think I've conclusively failed to give an adequate description of what Bim is, I hope I've at least made you curious enough to find out for yourself. If you figure out what it's all about, or manage to decipher any of its many elements, let us know in the comments!
Vocabulary
Vocabulary by Marcus Soll (TopRanger) is a great tool for anyone trying to learn a new language. The app helps you learn vocabulary (hence the name) by providing the digital equivalent of flash cards. The app presents a word or phrase, which you must then translate. The likelihood of a word or phrase appearing depends on your past success in translating it: get it correct and the chance of it appearing again decreases, while getting it wrong will increase the likelihood of it reappearing. In this way the app focusses on your weakest spots.
This is very much a rote learning tool, but for vocabulary that's exactly what you need. The app is also very forgiving, essentially allowing the user to decide for themselves whether they got the answer correct or not (so no need to worry if your typing goes awry).
When first installed the app presents a completely clean slate, so you'll need to add in some vocabulary of your own before you can get going with the training. Entering words individually is a bit laborious, but thankfully there's an import option, using which you can install a comma- or tab- separated variable file (CSV or TSV). Each line in the file must include the untranslated word, the translated word, and an optional priority number. Using this approach, I found it was pretty easy to grab some translations from the Web, import them, and get started.
The latest version adds an option to reset all the priorities used to determine whether a particular word or phrase is shown, as well as fixing some bugs. It's available from the Jolla Store or OpenRepos.
Whether the approach works for you or not will depend on your preferred learning style, and how dedicated you are at using the app. The concept is well-known and simple, and this is an effective implementation. I expect anyone attempting to learn a language is likely to find it really useful, and it will certainly be staying on my phone.
News Photos
News websites can often be rather unhappy places to visit. Negative news stories apparently generate page views far more effectively than positive stories. However many news sites have one area which doesn't seem to follow this trend: the photo gallery sections. The daily photo sections on many news sites will often be the most colourful, uplifting and positive part of the site.
It's great then, to have an app which allows you to fully focus on these photographs. News Photos provides a gallery for showing the daily photo highlights from The Guardian, de Volkskrant and Der Spiegel. The photos that are displayed are invariably beautifully shot, each capturing a different snapshot of life, and always from all over the globe, sometimes further.
News Photos goes a fair way further than just showing a slideshow of these images. You can configure which outlets to pull images from and configure the number of photos taken from each site. The app can be configured to overlay a short description on each image to explain what's being shown. But you can also turn this off if you just want to revel in the beauty without distraction. Not all of the imagery is uplifting of course, and in addition to the artistic, it can also pull in some quite traumatic current-affairs imagery as well. It all depends on what the news sites are showing of course.
Rob Kouwenberg (rob_k) has done a great job of putting this together, with a decent selection of configuration options, plus the different sources already mentioned. The latest version tightens up the UI design, adds compatibility with HarbourBackup, and updates the list of supported sites. News Photos is available from both the Jolla Store and OpenRepos.
Simple Mahjong Solitaire
The last app we're looking at today is a great showcase for what can be done using the new WebView API discussed above, recently added for use in Harbour. Simple Mahjong Solitaire, created by Mark Washeim (poetaster), is a really nice new implementation of a classic game.
The WebView API allows you to embed a web browser in your app, and in fact when you run Simple Mahjong Solitaire that's essentially what you're getting: the Sailfish-specific part of the app is really just an instance of this WebView. This then wraps a local instance of Gert-Uwe Hoffmann's Simple Mahjong Solitaire game written in HTML, CSS and Javascript.
Presenting a website as an app this way isn't a new idea, but there are surprisingly few such apps developed this way for Sailfish OS, perhaps due to the fact the WebView API wasn't supported in the Jolla Store until now.
As a result of the fact this is really a website shown as an app, it's not as fully integrated into Sailfish as a fully native app might be. For example, it doesn't follow the standard UI design guidelines for native apps, and animations tend to be less smooth and sometimes a little more glitchy than you might expect from a native app.
Having said all that, there are some really nice benefits that come from creating an app this way too. You can seamlessly zoom in and out of the app to show more or less of the board. There's an abundance of nice graphics to enjoy. And poetaster has been able to rapidly develop an app that would have taken many hours of work had it been re-written natively. The backend web code is also hosted on the device itself, so there's no need to have an active internet connection while using the game.
But what about the game itself? In fact Mahjong Solitaire is not exactly Mahjong, nor is it exactly Solitaire. It does make use of the classic Mahjong tileset. Similarly it is a single player game like Solitaire. The set of 144 tiles (with each tile duplicated four times) is arranged in a grid-like formation, with some stacked multiple tiles high. The player must then select pairs of identical tiles; each correctly selected pair is removed from the board. The player wins if they're able to remove all of the tiles. Simple? Not so fast!
There are a few catches. A tile can only be removed this way if it has at least one horizontal edge open (i.e. there's no tile placed directly to its left, or to its right, or both), and has no tile stacked on top of it. The fact there are four instances of each tile adds some strategy to the proceedings: if only three of them are exposed, which pair do you remove, and which do you leave behind? In many cases your choice will determine whether or not you can complete the game or not. For example, if two pairs of tiles end up trapping each other on either side, the board becomes impossible to finish, which is the most common situation in my experience!
The app comes with six variations of the game, different in the starting arrangement of the tiles, and each offering a slightly different level of difficulty.
If you've not played Mahjong Solitaire before, it can be picked up in minutes, and from then on can easily eat up hours of your time. It's a classic game, and this particular implementation works really well, even though most of the code is entirely non-Sailfish specific.
Simple Mahjong is availble from both the Jolla Store and OpenRepos. Poetaster has done a great job finding a nice implementation of the game and wrapping it up in a Sailfish WebView. I hope this is a sign of things to come and we see more apps created this way in the future.
Please feed us your news
This is a community update, and as you can see we can't always keep up with all the exciting stuff happening in the Sailfish community. So please help us out by posting your Sailfish news updates to the forum as a reply to this post. We'll collate as much of it as possible into one easily digestable post for the next update. And we'll have more energy from the community back again next time.
Don't forget to join us at the community meeting every other Thursday on IRC. It's a great place to discuss any of the content you see here, or to share your ideas for future updates. The next meeting will be on the 21st October.