Subscribe to future posts here

Sailfish OS update from Jolla
It's been a bit of a party month for Jolla, with the Jolla Ten Year Anniversary event held in Berlin on the 14th, followed by a similar event two weeks later in Helsinki for friends of Jolla closer to Finland.
We'll focus in the newsletter on what went on with these events. However, no less important is the fact that Sailfish OS 4.3.0 Suomenlinna hit the Early Access repos this week. The Early Access build targets in the SDK have also been updated to match. Let's leave the big announcement for the full release, but it's still exciting to see it maturing in preparation for a really nice update in the coming weeks.
Returning to the events, as you may already know the Berlin party was live streamed as a Facebook Live event and the video is still available on Facebook to view. Unfortunately Facebook isn't always too friendly to users without a Facebook account, so now there's also a version available on YouTube with slightly cleaner audio in case you've not already viewed it.
On the video you can watch the presentations, but this really only captures a small portion of what was going on at the event. Though fret not if you couldn't make it, for we tasked our roving reporter and community member Nico Cartron (cartron) with the task of writing up a report to capture the full picture of the activities. Nico writes an excellent blog covering Sailfish and PineTime amongst other topics, so we were super-happy that he agreed to share his experiences.
You can read his excellent and very detailed report from the field below.
The event in Helsinki was also a big success, and it was great to meet even more community members, former-Sailors and friends of Jolla. While we don't have a report on the event itself, we do have a special interview with Anna Toivonen, Office Manager at Jolla who, along with the Events Management Team, was responsible for organising both events. Anna has given us an in-depth and — we hope you'll agree — fascinating look behind-the-scenes at how the two events were put together. No small feat of organisation and planning.
Finally, we do of course have some more new and updated apps for you to enjoy. As always, it's been a busy fortnight, and we hope you enjoy reading about it below.
Nico's Berlin report from the field
This post is for the Sailfish Community News, therefore I'll focus more on the "Community" bit, and will skip some more "general" details, as they have been covered already elsewhere (e.g. in the Community newsletter from Oct 21st)
The event
Jolla has turned 10 recently (the company was founded on October 14th, 2011). Sami Pienimäki, Jolla's CEO, has written a nice post summarising what it all means, and all the things that happened during those 10 years.
Initially I wasn't planning to attend, as it's quite a trip from where I live (west-side of France) to Berlin, but in the end I decided to go; the goal for me was not only to get some details on the future of Sailfish OS and meet some Jolla folks, but evenly important was the chance to meet in person some members of the Community!
D-Day
As a kind of "warm up" on the afternoon of the event, I sent a message on the Sailfish OS Fan Club Telegram group to let people know Fridl and I would be in a coffee shop close to the location, if others wanted to join. We were joined by Sebastian Wolf, aka WerkWolf, who a lot of you probably know thanks to his many contributions to Sailfish OS, with among others Fernschreiber (Telegram client) and Piepmatz (Twitter client).
It was fun to sit together at the same table, with three Xperia 10 IIs all running Sailfish OS
Although in the end we discussed other things than just Sailfish OS:
Sebastian drove to Berlin using his Opel electric car, and shared his "experience", which proved to be nice.
And Fridl told me how he managed to get some internship opportunity thanks to Sailfish OS - for a Sailfish OS avalanche situation report app he worked on called avaRisk, he asked some avalanche warning services the permission to use their API - which they agreed, and then a few months later, a service contacted him to know whether he would be interested to be an intern to work and further develop on their software platform together.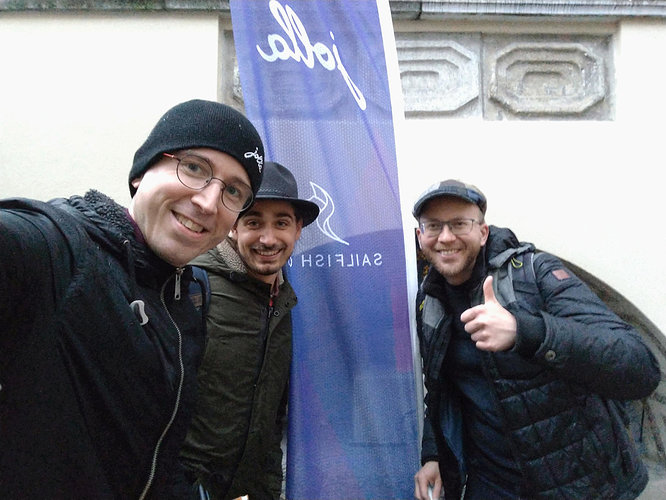 The venue
We then walked to the venue, which was an easy 10-minute journey, and easily spotted the entrance, thanks to a Jolla banner proudly sitting on the stairs.
Upon arrival, we got a nice Jolla lanyard (we joked about having to choose between the dark and light side of Jolla, since there were black lanyards with white Jolla logos, and white lanyards with back Jolla logos) - we all picked the dark one for some reason

The venue by itself was nice, with one room where food and drink were served, and the main one with the "stage".
Devices, you said you want devices with Sailfish OS??
Jolla didn't really provide a lot of details on how the event would happen, therefore I was pleasantly surprised to see plenty of Sailfish OS devices lined up on a table in the main room
I won't list them all, but we had, among others:
Nokia N900: the iconic one, with a sliding keyboard, running Maemo 5
Nokia N950: dev version of the N9, with a sliding keyboard
Nokia N9: the device which got me into Meego/Jolla
Dev board 1 (Marvell) and 2 (NovaThor - NovaThor - Wikipedia)
the Jolla 1 - someone even brought a TOHKBD (sliding keyboard)!
Jolla tablet
Jolla 1 "box"
Jolla C
LG smartwatch with Sailfish OS (Proof of Concept)
Intex Aquafish
Rugged Innoi R7
Inoi R7
Gemini PDA
"Xperia line": X, XA2, XA2 Ultra, 10, 10 II… and even the upcoming 10 III!
Side note: upon manipulating the N9, two things struck me:
it looks super small compared to the devices we use today - but yet, it feels just "right",
Meego is still awesome and super nice to use - what a shame it is that the whole Elop thing happened - but hey, you never know how things could have gone, and it's impossible to change the past!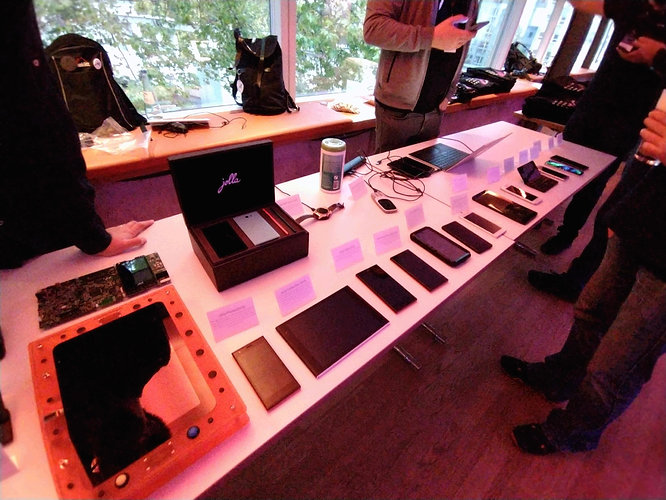 Meeting Sailors and Community members
Behind the table were some Sailors of course, and with my badge displaying my name and vice-versa, I spotted Andrew Branson and we chatted for a while. When using one of the devices, someone looked at my badge and said "Hi Nico!" - I looked at his badge but didn't see any name, but rather a drawing - which I didn't immediately recognise (something vaguely resembling some kind of animal) and then the guy flipped his badge and I saw "David Llewellyn-Jones" (aka flypig - yeah! this weird, manually drawn animal was indeed a… flying pig
Was super nice to finally meet David, as we have been chatting a lot on the forum and via Twitter!
This event was truly an international one, as we had folks from Finland and Germany, but also UK (David and Andrew) and even… Canada, as Mark "Poetaster" Washeim (well, Mark lives in Berlin, but was born and grew up in Canada).
Speeches
I will just highlight the main topics, as I'm sure there will be a blog post from Jolla covering that with a lot more details.
We had 3 speakers:
Sami Pienimäki (Jolla's CEO) took the stage to present a quick history of Jolla.
Joona Petrell (Jolla's Chief Architect) shared some insights, looking back at 2021, and beyond.
David Llewellyn-Jones (SW Engineer at Jolla) then gave a shoutout to the community; four members of the community were thanked for their contributions (following a vote on the Sailfish Forum):

Damien Caliste (dcaliste) was thanked for his many contributions, notably calendars and sync
Adam Pigg (piggz) for his tireless work on hardware (PinePhone, Volla, FxTec Pro1) and software (Amazfish)
Atlochowski for his precious input and many bug reports related to UX/redesigns
Rinigus for his work on apps such as Pure Maps, OSM Scout server, or Tama port (Sony XZ range)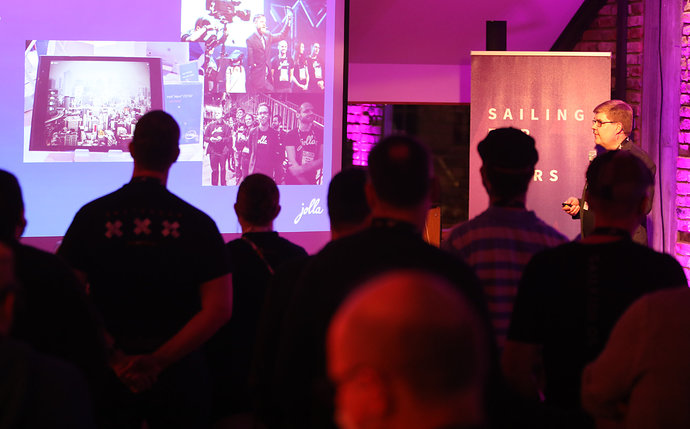 Final thoughts
With all these announcements, and after having spent some time manipulating all the devices running Sailfish OS, it was time to enjoy a piece of cake and some music, and of course keep talking with all the Sailors and community members
I really enjoyed this event, it was very nice to finally meet and discuss with some of the Sailors (David, Andrew) and community members (Sebastian, Fridl) I had been discussing with on Telegram and the Sailfish forum.
Also, the geek person that I am was super happy to be able to grab some Jolla swag: stickers, pins and even a T-shirt designed for the event, showing "Jolla - Sailing for 10 years"
Really glad to have grabbed this one, as I had to trash my "I am the first one" T-shirt I got with the Jolla 1, since I lost quite some weight since then and it was really too large.
I even managed to catch up with Carol "Cybette" Chen at Berlin airport - we were just busy talking to people during the event, and hadn't had a chance to discuss the evening before - but that was "fixed" in the early morning the day after

This event was so nice that, upon discussing it with the French SFOS community, we have decided to organise a meetup in France, so stay tuned!
The inside story: planning a party (or two)
Thanks go to Nico for a fantastic summary of the Berlin party, which we're privileged to be able to share. Nico gives us a great perspective of the event, but we thought it would also be interesting to hear what things were like from a very different perspective. Anna Toivonen is Jolla's Office Manager, based in Tampere, and she was responsible for project managing the parties in both Berlin and Helsinki. This is no small job, given the challenges of the pandemic, managing parties across two separate countries, and all to some tight and completely fixed deadlines. Luckily Anna is an expert in the area.
I was the project manager in these parties, so it was my job to keep the project team informed, to organize the meetings etc. I've been organizing a lot of events also during my free time, so it is something that I really enjoy doing. But this was my first time in a Jolla community event, and I think both Berlin and Helsinki events were very relaxed and fun parties. It was great to meet and greet the community members.
This chimes with Nico's experiences, and I hope everyone who attended the parties will agree that they were relaxed, fun, and a great opportunity to meet people that we may not have met for a long time, or even in some cases ever (at least in the "real world"). The two events were slightly different in nature, with the Berlin event being an opportunity to announce new features and plans, while the location of the Helsinki event meant it drew in more former sailors, as Anna explains.
In the Berlin event there were more German-based community members and ex-sailors. In the Helsinki event there were a lot of Finland-based sailors, ex-sailors, and cooperators.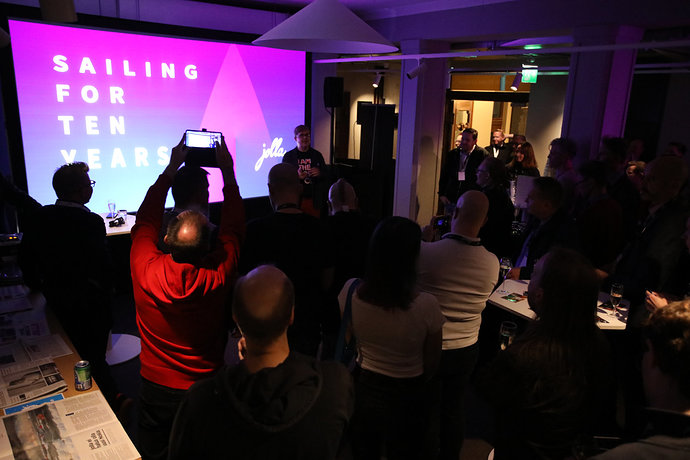 But while both parties may have been relaxed, they also both pulled together a large number of elements. With so many moving parts it can be a real challenge to have everything go smoothly. I ask Anna if anything went wrong.
I think everything went well. We had a bit of pressure with the schedule but the whole team worked hard, and we are all very happy with the results.
Anna sounds quite sanguine about it now, but my recollection is that there were some tense moments leading up to the event. She confirms that it wasn't all entirely plain sailing.
I had booked one company to do the Facebook live streaming, but they had to cancel because of illness three days before the event, and I had to find a new filming crew. Also, it was the autumn holiday season in Germany, so it was very hard to reach anyone. There was a little pressure with that, but I managed to get a professional crew to do the streaming.
In fact, our experience on the day with the audio and visual crew was really excellent, so what could have been a disaster was happily avoided. They were indeed highly professional on the day, giving good direction and I think producing excellent results as you can see in the photos and video of the event. This small hiccup aside, the detailed and careful planning of the event clearly paid off, and in practice the different pieces ended up all moving in harmony together.
We wanted to create a festive but still relaxed atmosphere, so that meant for example figuring out the technical needs, staff, program, food, and drinks for both events. Also, we wanted to give out some Jolla products, so we made T-shirts, pins and stickers with the 'Sailing for 10 years' graphic design. And because the events were at the same time community events and Jolla 10th anniversary celebrations, we wanted to show our appreciation of the support Jolla has received from the community members throughout the years.
On this last point, Anna is keen to emphasise the importance of the community for the events. Even after the events concluded, there was still work to be done, for example sending out the prizes to the winners of the community awards. And just as Nico is planning in France, Anna is also keen to support you all in the community if you'd like to run your own events.
I think it's great if members of the community would like to organize community events. I think it can be as simple as going for a dinner or a drink together. I mean that it doesn't necessarily have to be such a big event to organize. Don't hesitate to contact me if you need any tips or help with the organizing.
Hopefully some of what you've read here may inspire you to go ahead and organise something. And if you do, please do get in touch. At the very least we'd love to cover your event in the newsletter. So, does Anna have any last thoughts about the Jolla 10th Anniversary Parties?
Yes, it was nice to meet people from different countries, and talk about their relationship with Jolla and Sailfish OS.

I was happy with the atmosphere in both events. I think it's the best price for the organizer to see that the guests are really enjoying the party.
And we certainly did do that!
Energy from the Community
We've focussed quite heavily on the events of the last few weeks in the last couple of newsletters, and we hope you've enjoyed reading about them whether you were able to attend or not. However, there are plenty of other things going on in the Sailfish OS world at the same time. Here's our summary of just a few of the apps that you've been releasing and updating over the last two weeks. As always, it's only a small selection of the full set, but nevertheless ranging from functional to frivolous.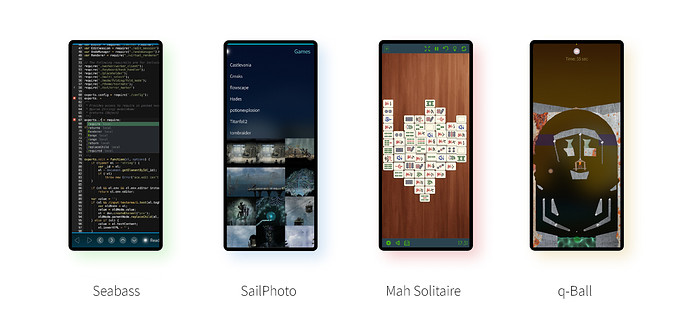 Seabass
Sailfish OS is blessed with several apps for editing code. Back in August we looked at the aptly-named Editor by GoAlexander for example. A similar nice tool for editing code is Seabass, created by Mikhail Milikhin (milikhin). While editor is a native Qt-based editor, Seabass goes a different route, building on top of the Ace code editor, written in Javascript. This approach comes with both very distinct advantages, but also some disadvantages.
On the plus side, it allows Seabass to provide a number of key coding features to make the job of writing code that much easier. For example, it supports syntax highlighting for a huge number of languages, including the expected C++, QML and Javascript, but extending much further. The store page claims support for "over 120" languages, and in fact I counted 163 in total. They cover the range from ABAP to Zeek (don't worry, I don't recognise those either).
Even nice is the fact that code completion is also supported. In practice, this is a huge boon when writing code, and Seabass will even tell you if your code is malformed. These are really superb features for a mobile code editor, which come from milikhin's smart move to extend a well-supported upstream editor.
When it comes to code editing, the keyboard is often a sticking point. Seabass does its best in this area by providing some extra directional arrow keys on the toolbar, along with additional undo/redo keys. For the Gemini or Fx(tec) Pro users among us, it also supports hardware keyboards. Other than this, the toolbar and menus are surprisingly minimal in Seabass. You can set the file to Read Only, which is particularly nice when reviewing a file since it hides the keyboard, giving a much nicer overall experience. The to menu has just the single "Open file" option, which ultimately is a good move, since scrolling all the way to the top of a file to use the menu can feel rather clumsy.
So, many positives. But on the minus side, the heavy use of Javascript and code-oriented features make the overall experience a little sluggish. Scrolling in particular is notably juddery. The actual editing process, including the code completion processing, is still fast enough to be useful, but it's a shame that overall the non-native backend takes its toll. Mikhail is planning an upgrade to the latest WebView, and with any luck that will provide a bit of a speed boost.
The latest upgrade starts this transition, but the main new feature is the ability to set indentation preferences using .editorconfig files. If you're planning to do any code editing on your phone (and of course you should be!) then Seabass is definitely one to try out. The latest version is available on the Jolla Store.
SailPhoto
On the face of it, SailPhoto by rgrnetalk is similar in functionality to Jolla's Gallery app. It allows you to view folders of photos, and the photos within them. Where SailPhoto adds value is in the way the user can control which folders to use and how to present them. For example, the list of favourite directories which appear on the launch page can be amended by adding or removing folders, reordering them, and assigning specific photos to appear as the icon for the folder. If you prefer to organise your photos in a hierarchical structure, rather than in the relatively flat structure presented by Gallery, then SailPhoto could well be what you're after.
Once inside a folder the images are also displayed as thumbnails similarly to the Gallery app. But now the differences become more apparent. If the image folder contains folders, rather than presenting all of the images as a flag list in the hierarchy, you'll now see the folders displayed at the top, with the grid of thumbnails below. Open the pulley menu and you can configure various filters on the folder: show only particular file types, display section headers based on date, or restrict to a specific date range. You can also turn off the display of subfolders if you want to see all the thumbnails in a clean list.
Finally, selecting an image will show it full-size as you might expect. But now you also have the option to cycle through all of the images in the folder as a slideshow.
It's clear that more advanced photo organisation has been a key aim with SailPhoto, the ability to present your photos just as you want them. This won't be for everyone, and if you're just after a way to preview and display photos simply and cleanly then there may be no need for you to go beyond the default Gallery app. But if you find the flat structure of Gallery to be too restrictive, then SailPhoto is a great app to try out.
The latest version is actually the first to appear in the Jolla Store, so congratulations go to rgrnetalk for getting it included. It's has however been available on OpenRepos for a while already. The latest update provides a 64-bit ARM version for the Xperia 10 II, and also updates the paths to reflect the change from nemo user to defaultuser. Note that the version on the Jolla Store, at 1.0.0, appears currently to be ahead of the 0.8.2 version on OpenRepos.
Mah Solitaire
In the last newsletter we took a look at Simple Mahjong Solitaire from Mark Washeim (poetaster). We called it "a really nice new implementation of a classic game", but obviously Mark wasn't satisfied with that, since he's now released a new version, this one called Mah Solitaire. The previous version was a WebView-wrapped instance of Gert-Uwe Hoffmann's simple-mahjong-solitaire. The new implementation takes a similar approach, using a WebView to offer an 'app'ed-up version of ffalt's Mah. As Mark explains, this is Sailfish OS 4 only, since the earlier Qt-based WebView "was not able to display something like this".
So how does the new Gecko WebView fare? Well, the app runs nicely overall. It's much more slick than the simple-mahjong-solitaire implementation, especially when it comes to scaling, and in my view has a cleaner user interface. It also has a much larger selection of games to choose from (increasing the number from 6 to 32). The hint engine is still there, but now you can also choose between an entirely random starting formation, or one that's guaranteed to be solvable. A nice addition.
So overall, a better implementation. The only downsides are that the Mah tile rendering lacks the clarity of the simple-mahjong-solitaire version, making it slightly harder — at least to my eyes — to distinguish the tiles, although the ability to switch tilesets does help ("Classic" still stands out best for me). The interface can also sometimes feel a little unreponsive.
Overall, another nice release from poetaster, and I'm looking forward to seeing where he takes his flights of Marjong next. Mah Solitaire is available from the Jolla Store and OpenRepos.
q-Ball
Daniele Cavallini (Unlik3) has created quite a charming game with q-Ball, a nice riff on classic pinball, but with added physics-engine jeopardy! As the author notes, the game has been made with rather cheap and poor materials. As a result, the wall of the pinball machine is liable to crumble away (leaving the possibility of losing one of your q-Balls through the exposed surface); the paddles are liable to spring off at any moment; and parts of the design in constant danger of cracking into pieces, falling and clogging up the mechanisms below.
The resulting game is somewhat chaotic, if enjoyable stuff. The physics are beautifully realised using the Box2D physics engine, and while the realistic physics can feel a bit capricious at times given that the same action doesn't always seem to give the same effects, it nonetheless never feels anything other than believable.
There's something thrilling about clinging to victory, last q-Ball stuck firmly on a ledge, using shattered bits of scenery (or better yet, your broken and detached paddle) as a makeshift ball to knock the elusive burning q-Ball into the water.
The degrading environment is a crucial part of the game. Across the four main levels you'll have to knock off bits of platform to get your q-Balls in the right position, break the glass containers housing the goal, and dislodge barriers. Facilitating this is a brilliant "team" mechanism, whereby you choose three balls to take into battle with you from a choice of 13 available. Each ball has differing characteristics: material, size, mass and density. These translate into different effects when you get to play: larger, heavier balls are better at dislodging elements of the scenery, but are also liable to knock one of your paddels clean off. Balancing your options is crucial for a successful win. Each q-Ball even has a name and country of origin, adding some nice personality. The only downside to this approach is that changing teams will reset your progress, which can be a nasty surprise after hours of smashing your way through the levels, only to find you have to do it all over again.
The latest update is for improved assets, so not really an update to the game at all, but since it brought the game to my attention, I felt definitely still worth a mention. It would be great to see some new levels added. q-Ball is available from the Jolla Store and OpenRepos.
Please feed us your news
This is a community update, and frankly we can't always keep up with all the exciting stuff happening in the Sailfish community. Plus, the less of this we have to actually write ourselves the better. So please help us out by posting your Sailfish news updates to the forum as a reply to this post. We'll collate as much of it as possible into one easily digestable post for the next update.
And don't forget to join us at the community meeting every other Thursday on IRC. It's a great place to discuss any of the content you see here, or to share your ideas for future updates. The next meeting will be on the 11th November, full details here.