Subscribe to future posts here

Sailfish OS update from Jolla
Sailfish OS for the Xperia 10 III
The really big news this fortnight is of course the release of Sailfish OS for the Xperia 10 III. You'll find the headline details on our usual blog post and all of the gory details can be found in the release notes. Very many of you already bought the hardware some time ago in preparation for the launch, and we're grateful that you've been so patient. And if you didn't, we'd encourage you to take a look at some of the really nice benefits that the Xperia 10 III brings over previous devices.
Even if you're not planning to upgrade, you'll nevertheless receive an update notification on your phone, which will bump up your Sailfish OS version from 4.4.0.58 to 4.4.0.64. We're taking the opportunity to roll out some quick-fix improvements to all of our supported phones. The changes include improvements to reduce GPS fix time, browser compatibility improvements, Sailjail permissions improvements, and a new button in the Settings Utilities to restart the fingerprint service to alleviate an issue that some of you have been experiencing.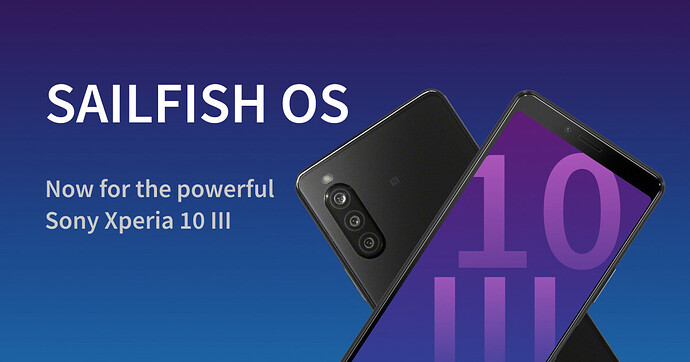 I've had the privilege of watching the Xperia 10 III adaptation improve over the last several months. It's hard to overstate how important those improvements have been, and it brings us to the point were the Xperia 10 III has become — in my opinion — by far the best official device on which to run Sailfish OS. The operating system has been properly optimised to run on it, so that the UI, the performance, the longevity and the features make for a very fine balance and an exceptional match.
But this goes the other way too. Sailfish OS has come a long way since we released it for the Xperia 10 II in May last year. We've seen improved security with Sailjail app sandboxing, improved browser performance and compatibility with Gecko 78, improved sharing, improvements to Android App Support to allow better integration and even more apps to run. We've also seen a myriad improvements contributed directly by the community, from dcaliste's extensive calendar work to localised mimetype handling from Mister_Magister. As a result, the refined Sailfish OS UI and functionality has become an ideal fit for the Xperia 10 III hardware. I believe it's now the best way to experience the powerful Xperia 10 III hardware as well.
From the Xperia 10 III hardware itself you get a gloriously bright OLED screen, with 21:9 aspect ration tailored for the best multimedia experience; best in class water and dust resistance; exceptional battery life, buttery-smooth performance, increased memory for better multitasking, a micro SD card slot to boost the phone's storage, all with the classic Sony slick yet understated design.
If you're looking for the best phone to run Sailfish OS, then the Xperia 10 III is the one. If you're looking for an operating system carefully tailored to the Xperia 10 III capabilities, then Sailfish OS is it.
All of us at Jolla are properly excited about this release. Not only is it the culmination of much effort and focus, it's also the chance for us to really let Sailfish OS shine. This is the tracking-free, privacy-considerate, user-oriented, gesture-based Sailfish OS experience at its best.
VoLTE support on the Xperia 10 III
The Xperia 10 III release isn't a beta — it's a full-on release — however we are also taking the opportunity to release a beta version of VoLTE support for the device. We've spent the last six months working incredibly hard on our VoLTE implementation. It's now a usable solution, but it's of course a real challenge to test it with different operators in different countries. This roll-out is an opportunity for users to test out the new capabilities.
However, as it's a beta feature, we've left it disabled by default. If you're feeling brave and willing to try, then we've provided details of how to enable it in a separate post on the forum. Note that for the time being this is only possible using Xperia 10 III hardware.
Once again, although it's still early days, we're really happy to see the first steps towards a broader rollout of VoLTE support on the Xperia 10 III. We'll be keen to receive your feedback.
Xperia 10 III camera support
One final important note relates to the camera support on the Xperia 10 III. As is explained in the blog post, to gain full camera support on the Xperia 10 III requires a shift from the Camera1 API to the Camera2 API for the underlying drivers. Already on previous occasions we've seen important improvements to the camera support coming from you in the community. We're particularly hoping that the shift to the Camera2 API will be something we can do directly in collaboration with the community. The relevant code is open source, so if this is something that you might be interested to help with, let us know through the usual channels.
Energy from the Community
We were fascinated to see the work unmaintained has been doing to create an X-Plane Panel using phone hardware running Sailfish OS. X-Plane is a particularly realistic flight simulator, with the high-end versions even being used for professional flight training.
The setup using Sailfish OS phones is impressive, with additional QML dials provided on separate hardware devices. The project is developing and as unmaintained points out, the results are really very good.
I have to admit it works better than expected. Now I just need to create more instruments and add more phones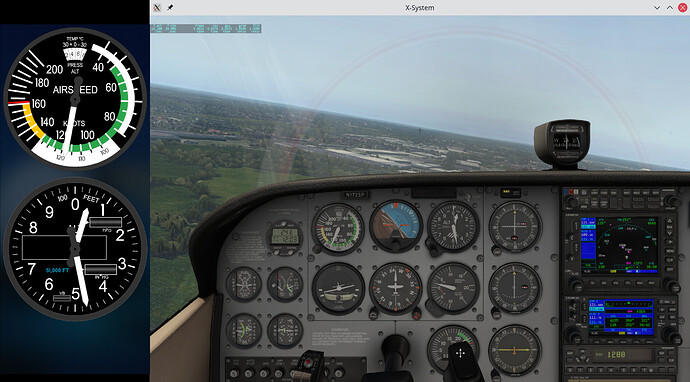 We also particularly enjoyed reading ncartron's post comparing Sailfish OS 1.0.8.19 "Tahkalampi" from October 2014 with Sailfish OS 4.4.0.58 "Vanha Rauma". Working in collaboration with Patrick from the Sailfish OS French Telegram Group, Nico provides side-by-side comparisons of many different features. Some things have changed a lot, other things have remained reassuringly consistent, and as Nico explains:
you can see that the Sailfish OS "UI/UX basics" are still there, but the system has evolved gradually, adding a few changes here and there.
It's a recommended read!
Repository roundup
Damien Caliste once again brings us his Repository Roundup, the fastest and most informative way to absorb all the latest developments happening to the Sailfish OS codebase.
Audio stack
pulseaudio, the sound daemon and much more, mal is proposing a pull request allowing Meson as a build system on SailfishOS. It is based on two upstream commits and two adjusting changes for Sailfish OS peculiarities.
pulseaudio-policy-enforcement, pulseaudio-module-keepalive and pulseaudio-modules-nemo get new branches from the meson port, but no pull requests were created yet.
Telephony stack
Web browser
Network
User interface
Calendar stack
SDK, documentation and developer tools
Quality / software engineering
Apps advancing
It's been yet another busy fortnight, not just with changes to the code inside Sailfish OS, but also with changes to the apps running on top of it. Here's a swift rundown of the latest new and updated apps that have sailed into Harbour this fortnight.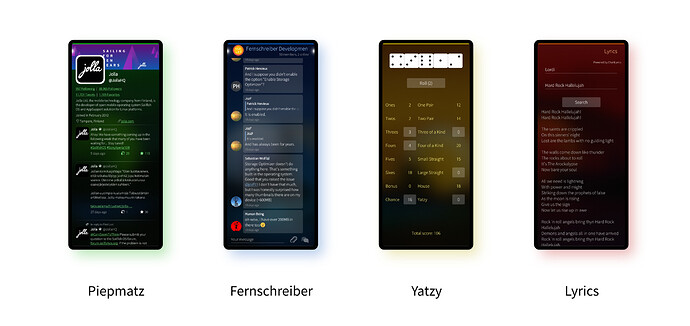 Piepmatz
Twitter has always been one of the best-supported social network on Sailfish OS. Part of the reason for that is due to Twitter's relatively open API. Another part is the existence of Piepmatz from Sebastian Wolf (WerkWolf). Piepmatz is a brilliantly feature-packed Twitter client that does a great job of both presenting content, and allowing you to interact with others. We last looked at it in September of last year, since which is received a number of nice improvements. The latest update brings Emoji 14.0 support and improved Sailjail support. It's available from both the Jolla Store and OpenRepos.
Fernschreiber
Another app from Sebastian Wolf (WerkWolf), Fernschreiber gives the WerkWolf treatment to Telegram, providing another nicely feature-full way to communicate. Last year we saw it hit the giddying heights of fourth most popular app, and third most liked app in the Jolla Store. Going back a little further we also took a look at it in February 2021. The latest version has an updated backend along with several bug fixes courtesy of slava, fixes for sticker loading and updated French, Polish, Russian and Swedish translations. The latest vesrion is available from the Jolla Store and OpenRepos.
Reisplanner
Reisplanner and ReisplannerBE have both been updated by rgrnetalk. They provide public transport route planning using the Dutch NS rail service and Belgian irail.be service respectively. The latest version provides fixes for the page showing rail disruptions, good for keeping the blood pressure down. We covered Reisplanner in more detail in June of last year where we concluded it was "well worth installing if you're travelling in the areas it covers". If you are, then you can get yourself a copy from the Jolla Store.
OSM Scout
We last took a look at OSM Scout from Lukas Karas (karry) back in July 2021. It's a map application that focuses on offline usage, as well as a number of nice features such as route recording and elevation profiles for a route. Sailfish OS has been blessed with multiple excellent native mapping apps, of which OSM Scout is a great example. The latest version has a fix for the selectable map icon symbols as well as updated Czech, Estonian, Polish and Swedish translations. It's available from the Jolla Store and OpenRepos and Chum.
Frome
The purpose of Frome may not be immediately obvious from its name, but try it and you'll pick it up immediately. It allows easy calculation of percentages, handy if you're into tipping (the gratuity, rather than the fly, kind). Interestingly with the latest update Rustem Abzalov (arustg) is offering Jolla 1 support. Frome is a relatively simple, but nicely presented app, and for a bit more info about it, we covered it in December 2021. It's available from both the Jolla Store and OpenRepos.
Yatzy
Yatzy received its last update back in 2017, so it's great to see Reisplanner author rgrnetalk breathing new life into it with this latest update. The latest version provides Sailjail support, as well as some small UI changes. Yatzy is a digital implementation of the Yatzy game that, according to Wikipedia, is popular in the Nordic countries, and like its gameplay-relation Yahtzee, is broadly based around Poker using dice. You roll the dice three times, picking out the ones to keep each time. At the end, you have to select from one of the sixteen scoring options (e.g. "Three of a kind", "House") to allocate your result to. The game finishes once all of those scores have been allocated. It combined a lot of luck with some gentle strategy, and can be played with between one and four players. The spinning dice animation is particularly nice, and I could imagine keeping this on my phone to fill in those gaps which would otherwise be filled with the dangerous activity of introspection. Yatzy is a very nice implementation, and available from the Jolla Store.
Octava
Octava is a simple single-octave keyboard that you can play on your phone. It's been enjoying some rapid development recently from Rustem Abzalov (arustg), and since it's appareance in the last newsletter it's since gained animations for when the keys are being played, and a sparkly new app icon. Octava is available on the Jolla Store and OpenRepos.
Pure Maps
Pure Maps is the second of the mapping apps we have this newsletter. Probably the most full-featured of all the native Sailfish mapping apps, Pure Maps from rinigus provides offers multiple map styles, comprehensive routing, location bookmarking and even voice navigation. It's a superb app, which explains why it was not only the second most downloaded app in 2021, but also the second-most liked. We looked at it in detail back in June 2021, the latest update offers various improved icons, updated translations, Sailjail support, and info about the different features depending on where you installed it from. The latest version is available from the Jolla Store, OpenRepos and Chum.
Lyrics
We last looked at the Lyrics app from Andrea Scarpino (ilpianista) back in June of last year. Back then we described it as "querying the online ChartLyrics database to pull up the lyrics for any song you can find there", and if you want a way to access song lyrics, then this offers a very nice solution. The latest version supports MPRIS and adds the required changes for Sailjail. the Lyrics app is available from the Jolla Store, OpenRepos and Chum
SeaPrint
Back in February 2021 we called SeaPrint "a wonderful addition to Sailfish". It's been getting regular updates from attah ever since and we even covered it again last month as a result. As far as I'm aware it's the only way to get direct printing from Sailfish OS. It now has a much improved UI giving vivid icons for your networked printers, as well as much more control over the printer configuration. With optional installations you can support a wider range of documents, and there's even a Sharing plugin to allow you to print directly from other apps. The latest version adds the permissions needed to access removable media, as well as plain text formatting for plain text files. It is a really great app and if you use a networked printer it's highly recommended. SeaPrint is available from the Jolla Store.
Dino
Dino is the cactus-jumping, alien-avoiding, dinosaur game that we featured in our games issue, based on the game embedded in the Chrome web browser. Ported to Sailfish OS by Rustem Abzalov (arustg), the latest version adds Sailjail support, and also a lovely new cover design featuring the dino pixel-art that makes the game so charming. Dino is available from the Jolla Store and OpenRepos
Hacker News
We've featured Hacker News before, but not this Hacker News, which comes from Robert Scheinpflug (neversun). As you might expect it provides a reader for Hacker News from Y Combinator. Select an item to show the comments that have been made against a linked article, then dig into the article either directly within the app or by bumping it to the Sailfish Browser. Initially only the first twenty items are shown, but you can download more on demand, and also switch between top, new, show and job categories. The latest version improves text wrapping, and overall the app performs the job it's designed to do nicely. The Hacker News app is available from the Jolla Store
Mæp
Mæp is no less than the third mapping app we're covering this newsletter, and also happens to be maintained by fellow-newsletter-writer Damien Caliste (dcaliste). We first covered the app when it received an updae last month. Despite his numerous contributions to the OS and this newsletter, Damien still found time to update his app again. The latest changes fix some bugs related to larger displays and improve the UI, for example by making the zoom buttons dynamic. It also makes updates to remove various maps that the map tile server has discontinued. While Mæp may not be as fully-featured as Pure Maps, it makes up for it by being light-weight and fast. And the latest changes do make some subtle but nice improvements to the UI. Mæp is available from the Jolla Store and OpenRepos
IT trains
Athough it's been available from the Jolla Store since 2017, IT Trains from Yuri Bongiorno (yuri) is a new app for this newsletter. The app provides information about trains on the Italian rail network. However, it's not a route planner, but rather a way to find out — in quite some detail — about particular stations and trains. The initial page is a bit daunting, requiring you to directly enter a specific station or a train number. The train numbers are four or five digits long, and I couldn't discern any particular pattern to them, so you'll need to already know the train number you're interested in, or to start with the station field instead. Having found a train, the app will let you know the stations and platforms it stops at, as well as both the planned and actual departure times. I can see it being a useful app for negotiating the Italian railway, especially mid-journey, but sadly I wasn't able to test this in practice. If you can, then please let us know how you get on. IT trains is available from the Jolla Store.
Please feed us your news
We hope you enjoy this community news, which we'll continue to refine over the coming months. This is your news, and frankly we can't always keep up with all the exciting stuff happening in the Sailfish community, so please help us out by replying to this post in the forum if you'd like to see something included.
And do also join us at our community meetings on IRC, Matrix and Telegram. It's a great place to discuss any of the content you see here, ask questions and share your ideas. The next meeting will be on the 26th May.