Subscribe to future posts here

Sailfish OS update from Jolla
The beautiful, crisp and elegant design of Sailfish OS has always been one of its most important features. And ever since the release of the Jolla 1 back in 2013, the cornerstone of Sailfish style has always been the ambience system with its ability to seamlessly adapt to whatever image and colour has been selected.
Long-time Sailfish users will no-doubt also have enjoyed the various ambiences that shipped with the operating system over the years. So it's a particular treat to hear what Jolla's Chief Designer, Martin Schüle, has to say about how the ambiences were developed for the latest Sailfish 4 release. Without further ado then, here's Martin with the inside story behind the fourth generation of Sailfish OS ambiences.
The Ambiences for Sailfish OS are always following a signature theme and underlying meaning. Vertical lines visualized the vertical composition of the Lock screen, Home and App grid in Sailfish 1; the Origami bird has been the symbol of 'Freedom' in Sailfish 2; the digital flowing light has been the metaphor for spreading Sailfish OS to other devices via Sailfish X, and Sailfish 3 featured a reflecting Northern Light forming an actual number 3.
For the 4th generation we had the idea of reusing the classical 4 elements: Fire, Water, Earth, and Air in combination with characteristic Finnish landmarks.
The playful illustrative style of the Ambiences enabled us to manipulate the compositions, recalibrate the physics of the sun and moon, slightly inspired by Liu Cixin's novel 'The Three-Body Problem', and generate our signature Sailfish 4 Look & Feel.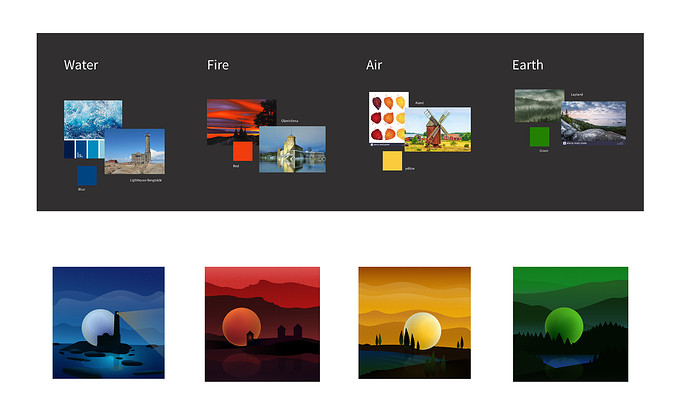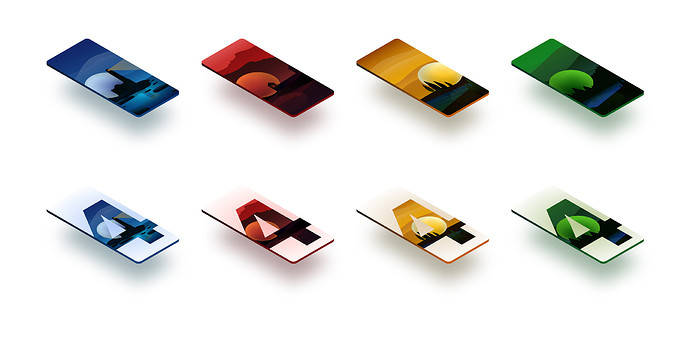 Don't forget there's a huge selection of alternative ambiences available to install from OpenRepos. Select the Ambience & Themes category in Storeman to view them. We'd love to hear — even better see — what ambiences you use on your phone. Do you prefer to stick with the professionally created Jolla ambiences as Martin has just described, or do you use something you created yourself? Are your backgrounds made from personal photographs. abstract designs, or maybe just plain colour? Is there something particular you'd like to see as a future ambience to be shipped with the phone? Share your views on future ambiences, and perhaps a view of your current ambience, in the comments.
In the last newsletter we heard about several updates to the Documents app that were filtering through the review process. One was to allow conversion of documents for use by other applications such as attah 's SeaPrint. Another was to fix a nasty bug discovered by ApB that caused the engine to crash when reading files with specific features.
Happily these have now completed their journey, as explained by dcaliste :
As a continuation of the last entry, pvuorela accepted the Calligra MR, so the converter will be in next-next version, as will the fix for ApB's file crash.
You can therefore expect these fixes in one of the upcoming Sailfish OS releases. We're looking forward to covering more of the various community contributions that are filtering through the review-acceptances-release process in future newsletters.
Energy from the Community
Alternative Mobile Operating System Observatory
In the previous newsletter we gave what we thought was a pretty comprehensive list of virtual places around the world where you can find like-minded Sailfish OS users for civilised Sailfish OS discussion. However, we missed out the Alternative Mobile Operating System Observatory's Telegram Group. This is a Spanish-speaking group about alternative mobile operating systems, including Sailfish OS, with a strong focus on Latin America. Thanks go to rigo for highlighting the omission, which we're very happy to rectify here! Our favourite news is the news that you provide to us, so please do let us know if there are other groups that deserve a mention.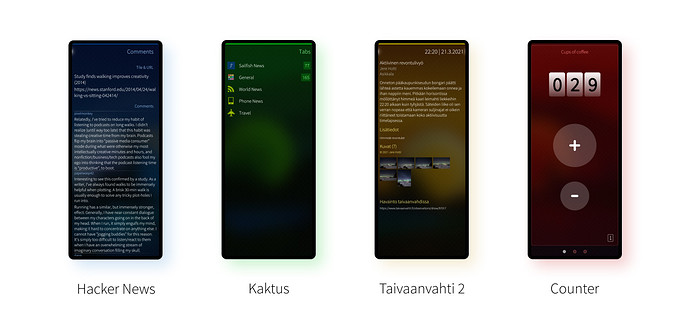 Hacker News
Hacker News from Y Combinator is a great feed for keeping up to date on, well, hacker news! Mark Washeim (poetaster) has created HackerNews that allows you to quickly read the headlines, then drill down into the topics and conversations, without having to open your browser. As Mark explains on the forum, it's the first app he's developed from scratch for release to the world, and as such has a couple of rough edges (some clipping needed here and there), but is developing into a nice addition to the native Sailfish app roster. Get it from OpenRepos.
Kaktus
Another app for reading news, Kaktus by mkiol is a feed reader that supports a variety of online aggregation services, with the very neat feature that it allows offline reading. It recently received a nice update for Sailfish 4 that also adds support for the Gemini PDA screen orientation and gestures for marking an article read. It also has one of the more clean and vibrant app icons, and is worth taking a peak at for that alone. The latest version is available directly from the Jolla Store or via OpenRepos.
Taivaanvahti 2
Taivaanvahti is Finnish for Sky Watcher , and that's exactly who this app is aimed at. The original app by zuh was recently picked up and upgraded to version 2 by Moppa5 . The app is aimed primarily at Finnish speakers, but given the dark winters, lack of night-pollution, and unique astronomical events that Finland enjoys, it's worth taking a look even if you're not a native speaker just to appreciate the quite astonishing and beautiful photos that are shared through the service. Truly breathtaking stuff; go download it from the Jolla Store.
Counter
Counter is an app by Jolla's very own slava and which recently enjoyed a bug-fix release. As the name suggests, the purpose of the app is for counting. Counting scores; counting cups of coffee; or maybe even counting sheep if you're too sleepy to do it in your head. It's a very nicely presented app and the counters are usable directly from the cover. Version 1.0.20 is available from the Jolla Store or OpenRepos.
Please feed us your news
This is a community update, and frankly we can't always keep up with all the exciting stuff happening in the Sailfish community. Plus, the less of this we have to actually write ourselves the better. So please help us out by posting your Sailfish news updates to the forum as a reply to this post. We'll collate as much of it as possible into one easily digestable post for the next update.
And don't forget to join us at the community meeting every other Thursday on IRC. It's a great place to discuss any of the content you see here, or to share your ideas for future updates. The next meeting will be on the 25th March, full details here.