After Downloading the update to Suomenlinna (4.3.0.12) I got the message "Entferne die folgenden Pakete,…" (English: "Remove the following packages…"). On several Answers here I read that I can ignore it. But if I can ignore this message, I wonder if it means that the system will automatically uninstall the following packages and I don't have to do anything. I take a screenshot of it (Thats why I wrote the message in German):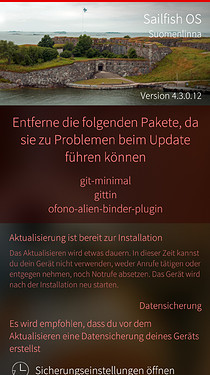 I had some problems removing/installing this Peckages via the Terminal (I made a pkcon refresh before doing that):
Before the upgrade: If I will remove the Package gittin I got the message "No Packeges found". Removing the others are no problem.
After the upgrade: If I try to install the packege "git-minimal" I got also the error "no Packege found".