We're hoping to post updates every couple of weeks. Subscribe to the community-news tag for notifications about future updates
Sailfish OS update from Jolla
The big news from this week is the release of Sailfish OS Koli 4.0.1 to Early Access users. It's been undergoing extensive testing already for several weeks, and many community members already predicted some of the changes by following the repositories.
We won't go into detail about all of the features, since that info is available in plenty of places elsewhere, but this being the first community update, this does seem like a perfect opportunity to thank all of the testers and Early Access users who submitted bug reports, many of which we were able to act on and fix prior to the public release today.
If you've not yet upgraded to the 4.0.1 release and are keen to see what's in store, check out Leszek Lesner's video preview where he gives a great overview of the new features.
While we're not going to in to too much detail here, we are keen for you to make the most of all the new features. Two nice improvements are the addition of QR code scanning build directly in to the Camera app, and the ability to add a glancable view of your events to the lockscreen. However, these features aren't turned on by default and may be easy to miss if you're not aware of them. So, don't forget to visit the Settings > Apps > Camera page and the Settings > System > Events view page to activate the features and try them out.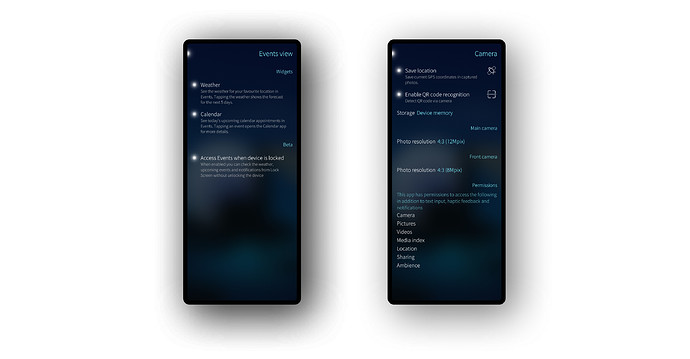 We hope you enjoy the release. Many of you will be aware that the release process itself takes quite some time, and so the Jolla team are already hard at work building the next release. In the next update we'll talk about some of the work we've been doing that will end up in the next one.
Energy from the Community
The updates for Sailfish OS apps continue to roll in. Here we'll mention just a few of them as there are far too many to be exhaustive. If you've released an app update recently and would like it mentioned here, or if you have some interesting community plan you'd like to announce, please let us know and we'll include it.
Many of the items here concern bleeding-edge updates to apps, and as such many of them will be available on OpenRepos before they make it into the Jolla Store. Please bear in mind that OpenRepos is independent from Jolla and doesn't vet applications, and we therefore are not responsible for any content found there.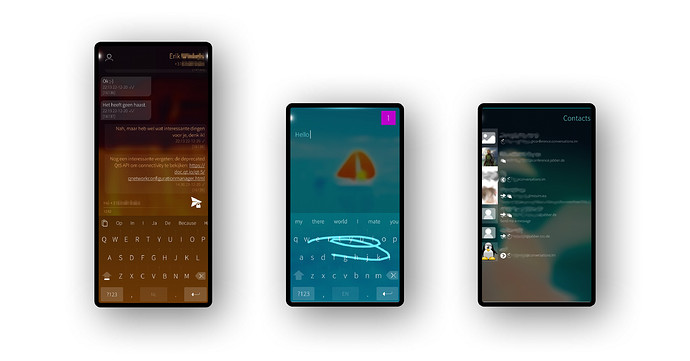 Whisperfish
Whisperfish has been generating a lot of interest on the forum since it's development was restarted by Ruben De Smet and shifted from Go to Rust. A huge and impressive effort. Signal has a strong emphasis on privacy, and with other messaging services hitting the news recently, the Signal service has been gaining a lot of traction. Whisperfish is a really nice native client, developing rapidly and definitely worth taking a look at.
OKBoard
OKBoard, developed by Eric Berenguier, is a swipe-based replacement for the standard Sailfish OS keyboard. It seems to be pretty popular and has been quickly updated to support Sailfish OS 4.0.1, which we love to see. Grab yourself a copy from OpenRepos.
Shmoose
Shmoose is a nice XMPP client for Sailfish OS that recently got a minor update to fix some bugs. Sailfish has had XMPP support built in from the start, but it's fair to say that the integrated implementation is intentionally lightweight, with many of the management tasks (e.g. creating new contacts) expected to be done on other clients. Unfortunately a bug also crept in to Sailfish OS during the upgrade to OpenSSL 1.1.1 which prevents the integrated XMPP client from working. We're busy getting this fixed, but in the meantime, why not check out Shmoose.
URL aware file opening
Prolific porter Mister Magister has submitted a Merge Request that aims to allow better handling of URL opening, by adding additional MIME handler info to the desktop file. If merged, this would allow apps to register their interest in particular domains. When a URL matches the specified domain the user is given the opportunity have it launched in the app concerned, rather than the browser. Check out the nice video. The topic also generated much interest when it was discussed at the recent community meeting.
News from farther afield
Long-time Sailfish contributor Kabouik posted some great videos of Sailfish OS running on the F(x)tec Pro1. It's a lovely device and appears to run Sailfish OS beautifully. Not only that, but using containers Kabouik is also able to demonstrate various other desktop Linux distributions running on top of Sailfish. It's a great demo and a great device.
At Jolla we obviously have a keen interest in the evolution of the mobile ecosystem as a whole. It's also something that many community members are invested in and knowledgable about. So it piqued our interest to see that community member Jonathan Grolleau has been looking in to (in his words) "why countries and companies need to adopt alternative mobile OS". Jonathan has invited input from Sailfish OS users in this forum thread.
Community Shout-Out
The Jolla team are really proud of the 4.0.1 release. We fixed more bugs this release than for any other release in the last couple of years, and have pushed out some long-requested new features, as well as, we hope, a few surprises too. But we're also really proud of the amazing contributions that have gone in to it from outside Jolla. That includes contributions from the community. Many thanks to Damien Caliste, Alberto Mardegan, Jami Kettunen, Erfan Abdi, Scott Percival, rinigus, Danct12,… and many otheres I've no doubt missed, all of whom submitted PRs that became part of 4.0.1. It also includes many changes from upstream projects too numerous to mention. And it also contains changes by OMP, who contributed more open source code to this release than to any other, which you can see for yourselves in the repositories. Last but absolutely not least, we're perpetually impressed by the amazing efforts of all the translators who contribute so significantly to the quality of the OS. A shout out to the top-notch ones since the beginning of the last L10n round:
susenerajce and Karry for Czech, nthn for Dutch, Marcos for Portuguese (Brazil), Parallelhistory and hge for Chinese (Simplified), rozgwi for German, martonmiklos for Hungarian, fravaccaro for Italian, cartron and team for French, fnkkio for Romanian, carmenfdezb for Spanish, atlochowski for Polish, sponka for Slovenian, emva for Norwegian, ApB and dglent for Greek, werdinand for Estonian, eson for Swedish, lhodas for Slovak, lal for resurrecting Malayalam, and maidis for translating Turkish that needed love! These contributors went an extra mile of not only translating new strings, but improving on old ones too! We can't stress enough how important it is to keep the terms and translations consistent throughout the OS, which nearly always involves reviewing existing translations. Thank you all and we hope to see other languages and contributors popping up during the next round!
Please feed us your news
This is a community update, and frankly we can't always keep up with all the exciting stuff happening in the Sailfish community. Plus, the less of this we have to actually write ourselves the better. So please help us out by posting your Sailfish news updates to the forum as a reply to this post. We'll collate as much of it as possible into one easily digestable post for the next update.
And don't forget to join us at the community meeting every other Thursday on IRC. It's a great place to discuss any of the content you see here, or to share your ideas for future updates. The next meeting will be on the 25th February, full details here.