REPRODUCIBILITY: 100% (on my phone, that is)
BUILD ID: 4.0.1.48 (Koli)
HARDWARE: Xperia XA2
UI LANGUAGE: Dutch
REGRESSION: Yes
DESCRIPTION:
Early july, prior to upgrading to 4.0.1, I successfully managed to perform a manual backup to SD. When I now tried to perform the exact same operation, preparing for the 4.1 (Kvarken) update, the backup fails at the level of the playlists or notes (~ "Error: can't load notes" or "Error: can't load playlists").
STEPS TO REPRODUCE:
Assure SD card is present and has sufficient space.
Settings>System>Backup-up>Manual backup>"Backup up now" button (best guess translations based on Dutch UI)
EXPECTED RESULT:
Progression and completion of backup progress bar, and creation of backup file in root of SD card (at least, this is where I found the file of the last successful manual backup to be residing)
ACTUAL RESULT:
Backup progress bar progresses and messages "back-up: accounts" and "back-up: gallery" (best guess translations) appear below bar.
Then error message "Error: can't load notes" or "Error: can't load playlists" (best guess translations) appears below the progress bar, along with a 'check' (~ "V") sign to the right of the progress bar.
Despite the 'check' sign, no backup file was created in the root folder of the SD card.
ADDITIONAL INFORMATION: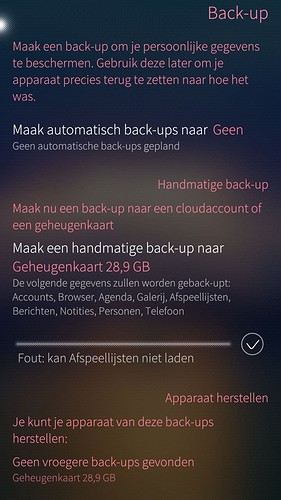 (no idea how to read the log files and/or where to find the relevant ones, journalctl seemed to require root, please advise)