REPRODUCIBILITY: once
BUILD ID = OS VERSION: 4.0.1.48
HARDWARE: Xperia X Dual SIM
UI LANGUAGE: EN-UK
REGRESSION: Yes - to my memory, apps were all there in Store, after upgrade.
DESCRIPTION:
This post is focused on an Xperia: the issues with a Jolla phone are mentioned as reference.
(Short)
I upgraded my Xperia X to Koli and now Jolla Store shows only the apps I had removed before the upgrade and reinstalled afterwards. I thought I had messed up. Yesterday I updated my two Jolla 1. Something odd happened as well that convinced me to write here.
(Long)
I have three phones (two dismissed Jolla 1, and my everyday Xperia X F5122); one week after Koli was available for everybody I upgraded the Xperia, using Olf's "sfos-upgrade" for the first time. Since I am running "just tight" with the space in root's partition, I uninstalled some apps, then proceeded with the update. After completing the update I went to reinstall the apps I needed, and when I looked under "My apps" I realised there were only those I had just reinstalled. I am quite sure I disabled all repositories in Storeman (which I use), and I remember checking that Storeman was up to date. Nevertheless, some doubts arose. After that, I looked around here in the Forum, and I ran "version --dup". The whole process ran smoothly, but nothing changed. At that point I suspected I might have done something (or several somethings) wrong, and I ended procastinating any further "investigation" (phone is functional, after all).
This past weekend I decided to upgrade my two older phones. One, I just updated from the state it was. The other, I decided to wipe and reset completely; from there, I updated it through the several "steps" till v3.4.0. When finished, I only checked that the phone was working, but no more. I realised later that an issue similar to the one on the Xperia had happened only when I decided to play with Jupii on it. In fact, I can see only Jupii and TOH under "My apps"; yet, I can also see Clock being installed, under "Top apps".
I think this is similar to this, with different OS version, but different from this one insofar things relate only to "My apps" and not to the whole store.
PRECONDITIONS:
Checked that apps were up to date
Removed some apps to make space available in root
Disabled all repositories from Openrepos
Ran sfos-upgrade following instructions
Upgraded phone
STEPS TO REPRODUCE:
Upgrade OS ?
EXPECTED RESULT:
"My apps" showing all the apps marked as installed under "Top apps".
ACTUAL RESULT:
"My apps" showing only the apps installed after the upgrade.
ADDITIONAL INFORMATION:
Xperia: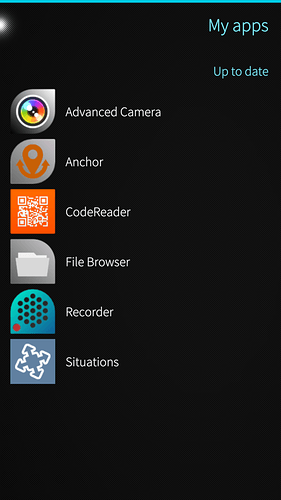 rant
No more additional info because first time posters can't upload more media
/rant