REPRODUCIBILITY (% or how often): Everytime
BUILD ID = OS VERSION (Settings > About product): 4.1.0.24
HARDWARE (XA2, X10, X10 II, …): Sony Xperia 10 Plus Dual SIM
UI LANGUAGE: English
REGRESSION: (compared to previous public release: Yes, No, ?): Yes
DESCRIPTION:
Unable to see the bottom half of.the.browser as.the.keyboard is.open and.the browser stops scrolling. So have to keep closing the keyboard to reposition the cursor and hope ive typed correctly.
In landscape mode it is an even worse experience as the keyboard is always half of the screen.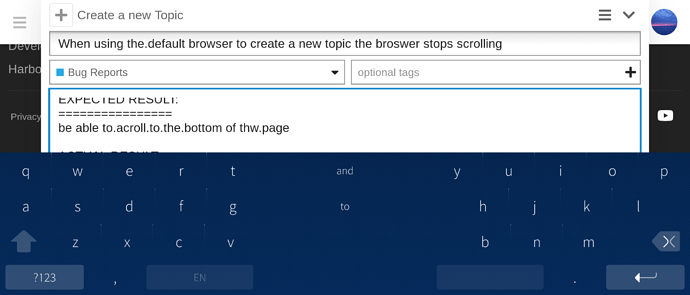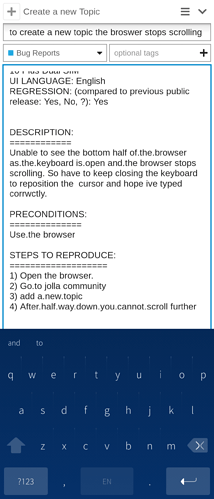 PRECONDITIONS:
Use.the browser
STEPS TO REPRODUCE:
Open the browser.
Go to jolla community
Add a new topic
After half way down you cannot scroll further
EXPECTED RESULT:
be able to.acroll.to.the.bottom of thw.page
ACTUAL RESULT:
unable to.scroll to.tge.bottom
ADDITIONAL INFORMATION:
(Please ALWAYS attach relevant data such as logs, screenshots, etc…)