Hi @Bambustreppe.
I updated the list for you
Thanks for sharing this info @Schniki12. If it's useful for other users to know about, then I think it's worth including independent of where the problem is. So I'd suggest to add it to the table anyway.
I tried a DNA/Finland SIM card in a X10II running 4.4.0.68, but it didn't even show the VoLTE option. I'm not even sure if the SIM had VoLTE enabled. Should it show up nevertheless?
I had to do a manual config mapping before it registered.
Country: BE
Provider: Proximus
Device Model: 10 II
Date tested: 2022-07-29
Registered: ✓
Voice In: ✓
Voice Out: ✓
SMS in: ✓
SMS out: ✓
Have a question guys: Could VoLTE could be switched on, while the SIM Card is in Roaming mode?
SE - TELIA on the Xperia 10 II shows that it registers. Voice in and out are OK. Sends and receives SMS. (S55.3)
I'm using the dual-SIM Xperia 10 II and I have Telia as a carrier in Sweden. I have successfully registered this phone for VOLTE, according to the "4G calling (beta)" light in the Mobile Network settings.
Like someone else wrote in the "filling in the gaps" thread, it's important to set the mobile data to the SAME carrier as the voice calls carrier, even if you have mobile data turned off. When they were different, I got the blinking light in the settings.
I confirm the trick worked
Note though that I had to reboot twice as I could not call after the first one. Maybe I had to wait more but a second reboot worked anyway .
VOLTE is indeed a nice addition. A faster handling of phone calls and sms

Country: NL
Provider: KPN
Device Model: 10 II
Date tested: 2022-08-03
Registered: ✓
Voice In: ✓
Voice Out: ✓
SMS in: ✓
SMS out: ✓

Works without additional configuration.
I don't have to set primary data and voice carrier to be the same on my Xperia 10 II, having Fello (Telia) in primary and Telenor SE in secondary SIM slot. I can have Fello as primary voice operator and still register to VoLTE on Telenor on secondary.
I do have to set the operator I want as primary data carrier for it to register VoLTE though. The operator that isn't used as data carrier wont register with VoLTE.
hello
Country: FR
Provider: B&YOU (from bouygues telecom)
Device Model: 10 III
Date tested: 2022-08-09 (for 2 weeks)
Registered: ✓
Voice In: ✓
Voice Out: ✓
SMS in: ✓
SMS out: ✓
but MMS doesn't works with or without VoLTE using same parameters as Xperia X with same provider. if any idea ?
have a nice day
OK, finally got a US Mobile SIM for my 10 II. (BTW they send both a T-Mo and a VZ SIM in the activation kit – the white one is T-Mo.) I did the online account config thing and put the SIM in slot 1, turned on 4G Voice and . . . Searching . . . . Denied. Tried multiple restarts. Tried removing and replacing the SIM several times. Tried slot 2. No luck. According to the USmobile website, the line is active.
I used an online IMEI checker and it said it was "clean."
So what makes a phone "naughty" and how do I convince Santa to make it nice? My pinephone running pmOS is somehow "nice" . . . .
@robthebold That is very bizarre. Let me confirm a few things. You're activating the white US Mobile GSM card- is that correct? By chance did you try the other card first? That black card will leave the account in a weird state if it's ever tried. Can you PM me your IMEI? I'd like to check a few things. There's just no good reason that phone should be denied unless it's flagged as stolen. I really want to get it working for you.
I used the white SIM. The black one is still stuck to the card, never put it in any phone. I've never gotten the 10 II to register with T-Mobile or USMobile by just putting in the SIM. The first SIM I tried on the Sony first, nothing happened, tried on pinephone and it started working. Put it back in Sony and it registered OK for a few days then went to denied about 4 days later. At this point it didn't work in either phone.
I got a replacement from T-Mo from a retail location, but that one did the same thing – I tried it in the Sony, got nowhere and then put it in the pinephone and it worked. I have not dared put it in Sony for fear of killing it, too.
Third attempt I got USMobile SIM and put it in Sony. It's been in there a few days now and I've never gotten anywhere but Denied. I haven't tried it in any other phone yet.
Sending you a PM with IMEI
@robthebold I went ahead and ran global checks and TMobile specific ones. It is indeed clear. When you created your US Mobile account did you port in a number or use a new randomly assigned one? Also, I did notice this is the dual SIM model. Were you putting the SIM into slot 1? I've had a lot of trouble with SIM slot 2 working here. Barring that, if you do have an active US Mobile SIM, can you slam that into SIM slot 1 and create a support ticket with them. Be sure that 'Prefer 4G' is selected, 'Select network automatically' is checked/enabled and 'Roaming' is set to never for now. That phone is absolutely supported and we can make it work. Cite that you're getting a denied and the settings I've indicated. Don't tell them you're using SFOS- this will confuse them. Just say you're using Android as it will be denied in the same manner. I'll PM you your results.
It's a brand new (to me) number I got with USMobile. I've got the SIM in slot 1. I did try it for a few reboots in slot 2, but the results were equally unsuccessful.

So it's back in slot 1 for several days now.
I've only got the brand new USMobile SIM, and I don't know of anyone else using that carrier to borrow another from. I could try putting it in the pinephone till it starts working (hopefully) then swap it into the Sony. I suppose the risk is "killing" it as well, but that would be data I guess.
Hi,
the MMS work with this config (XPERIA 10 III and B&YOU)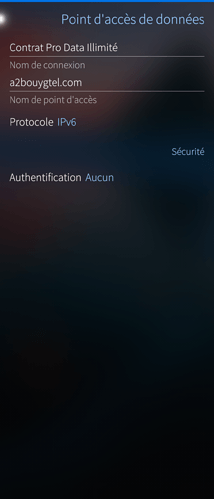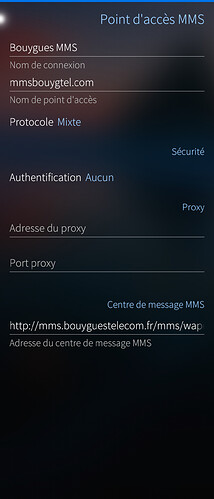 But it seems that VOLTE not work for outcoming call.
salut Rocks
thanks for configuration sharing. unfortunatly it didn't fix mms straight. maybe issue is with simcard (it's the one i used with xperia X), or that so many mms are pending i didn't see it's fixed

VoLTE seems working fine with defaut configuration one my side: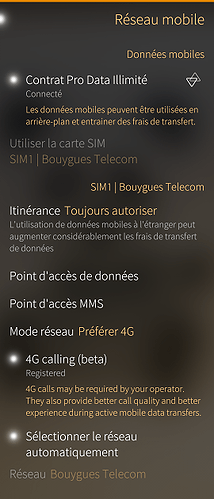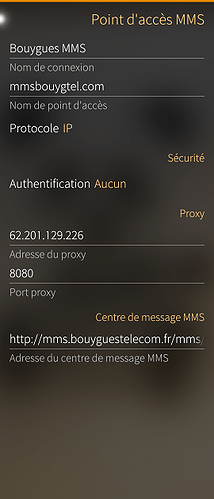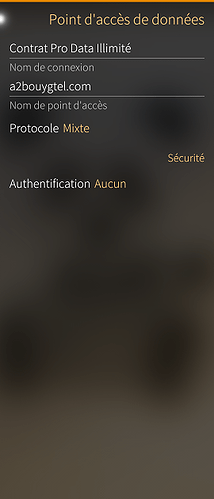 have a nice day !
OK, I have a new-to-me OnePlus 6T, the T-Mobile version, now carrier unlocked. It's running Android 11. I put the USMobile SIM that had been not working in the SFOS Xperia 10 II in there and it started working in short order. After verifying function for about a day, I've moved the SIM into the 10 II, and after a minute or so I got network connection and 4g voice working. For now it's still running.
So I've tried 3 brand-new SIMs in the Sony 10 II running SFOS before putting them in another device, 2 T-Mo and 1 USMobile (running on T-Mo network). None of them started working in the SFOS device before being in another phone. The first T-Mo SIM worked for three or 4 days on Sailfish after a short time in a pinephone before getting "denied" permanently in the 10 II. The second T-Mo SIM is still in the pinephone, still working, and hasn't returned to the SFOS device due to my paranoia. The USMobile SIM has only been working with SFOS for a half hour.
Update: sometime overnight, the US Mobile SIM got "denied" in the SFOS Xperia 10 II. I put it back in the Oneplus 6, and it came back to life. Hmmm.
SIM1 T-Mobile: S264.8
Sim2 Disabled: N/A
Xperia 10 II / SailfishOS 4.4.0.68