REPRODUCIBILITY: Always
OS VERSION: 4.5.0.21
HARDWARE: Xperia 10II
UI LANGUAGE: German
REGRESSION: yes
DESCRIPTION:
The updater in settings menu claims about missing internet connection. All other apps and browser are working as expected, so there is definitely a working connection. Also it makes no difference if wifi or mobile connection is alive.
PRECONDITIONS:
Functional internet connection.
STEPS TO REPRODUCE:
Go to Settings / Updates for SailfishOS
Pull down and select "Search for updates"
EXPECTED RESULT:
Serach for updates. Actually I think there should be a "no update available" message.
ACTUAL RESULT:
Error message "Please connect to internet" pops up, complaining about missing internet connection.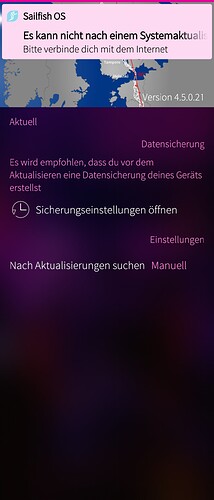 MODIFICATIONS:
Installed 4.5.0.21 with "sfos-upgrade", see below.
ADDITIONAL INFORMATION:
This problem already exitst in previous version 4.5.0.18 to. I thought it would be fixed with the update. Therefore I went with "sfos-upgrade", but the bug is still present.