Although the description of Design category states "Questions and proposals" and this is not one, I'd still guess the category is more fitting than General.
I've been testing out a RADIUS authenticated WPA2-Enterprise WLAN setup today on various devices & operating systems. After seeing quite many quite bad UIs, I just have to admire the usability and fine looks of the Sailfish UI here.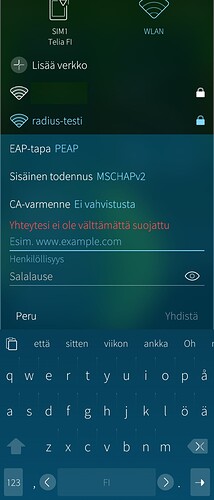 For comparison, e.g. a OnePlus. (Screenshot was not possible since "the page contains private data", that is, an empty identity field.) Note that the checkmark in upper right corner is in disabled state, in contrast to the enabled cross in upper left (dark gray, instead of slightly darker gray). In addition to account details, the "CA-sertifikaatti" must be changed from the default option to be able to proceed. This, however, is not communicated to the user in any way.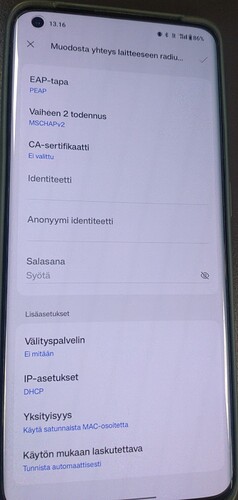 The translation differences are probably tangible to Finnish-speakers only, but I'd summarize the Sailfish UI to contain actual proper Finnish without anglicisms, and actually descriptive titles of various options.
This UI is not something users see every day, or compare with other systems, but after one does, one really has to appreciate it. I just wonder if there are still, after all these years of sailing, more such hidden UI gems somewhere for me to encounter one day.