Sailfish OS update from Jolla
Summer Greetings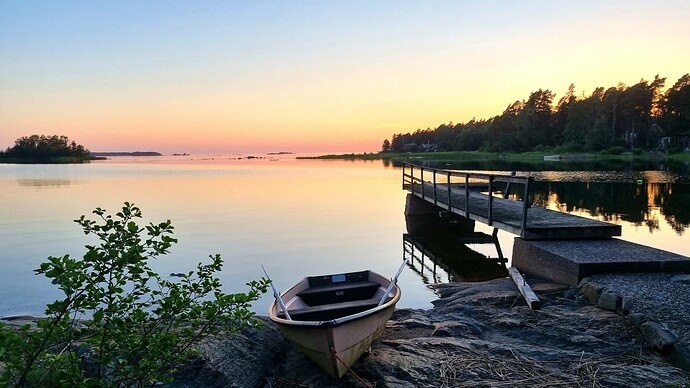 As we sail through the year, we find ourselves nearly at the halfway point, and what a journey it has been! Let's take a moment to recap some of the highlights of the last few months.
As we navigated through the first half of the year, our journey has been eventful. However, as summer approaches, the Jolla team is taking a well-deserved break, and our staffing will be reduced during this period. As a result, things may move at a slower pace and this will probably also mean a break in the publication of these newsletters. We will return to full capacity in the autumn, eager to share more detailed plans for the remainder of the year.
We extend our heartfelt thanks to the community for being with us during the eventful first half of the year. Let's keep sailing!
Energy from the Community
App roundup
This fortnight we're happy to have another four app updates for you to consider adding to your phone. But before getting in to the apps we wanted to take a second to congratulate Mark Washeim (poetaster) on his exceptional app output. Mark has had apps feature in all of the last four newsletters; impressive stuff. This time we're trying something different by not featuring any of Mark's apps. But that doesn't mean we wouldn't have been able to: Mark has released new versions of both Fibonacci and German Weather Service since the last newsletter.
So kudos to Mark with his tireless commitment to improving Sailfish OS apps. But kudos also to the app developers we're featuring today, and to all developers who've released apps in the last fortnight. We wish we could include them all, but will continue to do our best to feature a good mix.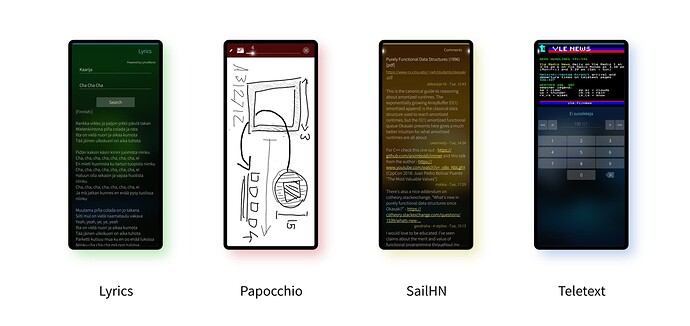 Lyrics
This is our first app today, and also the first of three updates all of which have been fashioned by Andrea Scarpino (ilpianista). Andrea has clearly been busy updating his apps, and we can all be grateful for the results.
Lyrics is very much an app that does what it says on the tin. If you've every been listening to a song in your playlist and felt the need to sing along, Lyrics will prevent you from making that embarrassing mistake. It's not "Sausage Rolls" but "Rock and Roll"!
Enter the artist and song title into the fields in the app and it will pull the lyrics from one of four different services. Depending on the version of the app you have, this can be one of AZLyrics, ChartLyrics, Genius or LyricsMania. The version from the Jolla Store (for some reason I'm not sure of) only supports LyricsMania while the version on Chum (for reasons of not revealing account secrets) doesn't support Genius. The long and short of it is that the version on OpenRepos provides the best experience.
In practice, the various services provide pretty similar results. However, while they typically insist on exact spellings of artist and song title, ChartLyrics is much better at accepting fuzzy input, finding lyrics even when only one of the words in a title or artist name have been entered.
Andrea's latest update brings Lyrics to version 0.2.2, bringing bug and permission fixes. In particular, the 'Media Player scanner', which finds the words to the song currently being played, via the magic of MPRIS, is intended to be fixed in this version. I find this to be one of the best features of the app, given that otherwise typing out song details is rather laborious. Unfortunately even after the latest update I couldn't get it to work correctly. I also experienced crashes when switching between providers. Hopefully these can be fixed in future updates.
Lyrics is a really great little app that brings new life to old tracks. I recommend taking a look.
It's available from the Jolla Store, OpenRepos and Chum, but bear in mind the points made earlier about not all these versions supporting the same level of functionality.
Papocchio
The second of our (ilpianista) special edition apps is Papocchio, a drawing/doodling/scribbling app, depending on your artistic prowess. Mine definitely fall closer to the scribbling end of the spectrum. But while the results of my Papocchio efforts may not be anything for Vasari to write home about, at least I can say I had fun trying.
On starting Papocchio you're presented with a plain white canvas, headed by a simple strip of button bar along the top border. This essentially provides four functions. A button to switch between pencil and eraser, a slider to specify the thickness of the line, a button to clear the page and a button to save out a copy of your current masterpiece.
The thickness can be set between 1 (barely visible) to 30 (felt-tip pen), with the value for the pencil and for the eraser being remembered separately. That means you can draw with a fine line and then remove all your mistakes with a chunky eraser, or vice versa. It's all very intuitive and uncomplicated.
There are a few additions I'd love to see: the ability to load in a previously stored image, and a copy of the current image visible on the app's cover would make it more useful as a tool for recording ideas. But its simplicity is certainly part of the current app's charm.
The latest version 1.3.5 adds Sailjail permissions, Lithuanian translations and a rather attractive new icon.
Papocchio is available from the Jolla Store, OpenRepos and Chum.
SailHN
Our final app for the newsletter from Andrea Scarpino (ilpianista) is SailHN, a Hacker News client that we've featured in previous newsletters.
Part of the appeal of the Hacker News website is its minimalist Web-1.0-style interface. So you might wonder whether it's worth installing an app to read it instead of going directly to the site.
The SailHN app does a good job of making it worthwhile. It manages to make good use of the Sailfish style, with sensible menus and neat use of the page stack to switch between categories. It also supports more than just reading of stories and comments, including story submission, commenting and favouriting of stories. Obviously you'll need to provide your credentials to do any of these things, but if you want to stick to just reading you can do so anonymously.
But there's also more integration with Sailfish OS now too, with the neat new ability of sharing items, improved info shown on the cover page, and many nice bug fixes.
The other big attraction of Hacker News is of course the content itself, and SailHN does a good job of presenting you with the content in a no-nonsense way. Both of these things considered, if you're already a reader of Hacker News, there's a good chance you're going to like SailHN.
The latest update brings SailHN to version 0.9.1, and it's available from all the usual places: the Jolla Store, OpenRepos and Chum.
Teletext
The final of our four apps this fortnight comes from Joni Korhonen (pinniini) in the form of the Teletext app. If you're under forty you may wonder what this Teletext thing is. So in case you're wondering, let's just say that Teletext is a precursor to the World Wide Web invented in the 1970s that allowed pages of information to be rendered with chunky fonts and graphics on TV screens via the broadcast network. Since this supports only one-way communication pages of data were sent in rotation. Having chosen a page to view by entering a three-digit number, users would therefore have to wait until their particular page was broadcast before it could be viewed.
In many countries Teletext is no longer available, but happily Finnish networks MTV3 (commercial) and YLE (publicly owned) still provide Teletext services accessible via the Internet. It's these services that the Teletext app hooks into.
Accessing Teletext via the Internet may all seem somewhat counter-intuitive, but it's actually a great way to get much of the info you might otherwise have to visit an over-engineered or advert-laden website for: news, sport and weather are all easily accessible.
Since the app is restricted to MTV3 and YLE, most of the information is only available in Finnish. However YLE does provide excellent news reporting, weather and flight information in English as well.
The app works really well. It turns out to be a great way to access Finnish news services in a really fast and simple way. The latest version fixes various bugs and there's also now a zoomable image of the Teletext page, which is a nice addition.
Version 1.3.1 of Teletext is available exclusively from the Jolla Store, and combined classic functionality in a very usable app.
Repository roundup
The network stack
Calendar stack
Positioning
Low level libraries
SDK and developer tools
Please feed us your news
Thanks again for reading! As usual, you are welcome to send us suggestions for future newsletter topics.