REPRODUCIBILITY: 100% (always)
OSVERSION: 4.5.0.19
HARDWARE: Sony Xperia XZ2 Compact - h8314 - h8314 - 0.5.0.1 - aarch64
UI LANGUAGE: Deutsch (user: de_DE, os: de_DE.utf8)
REGRESSION: not specified
DESCRIPTION:
After setting up the correct path to Pictures on WebDAV-Resource the Directory don't show up in Gallery like OneDrive for example.
PRECONDITIONS:
Set up on Synology-NAS with WebDAV. Manual Backups work always!
STEPS TO REPRODUCE:
Create a Nextcloud Account
Set path to Picture-Directory
No Picture-Directory in Gallery
EXPECTED RESULTS:
Picture-Directory show up at Gallery
ACTUAL RESULTS:
No Picture-Directory for Nextcloud show up in Gallety
MODIFICATIONS:
Patchmanager: yes
OpenRepos: yes
Chum: yes
Other: none specified
ADDITIONAL INFORMATION:
Device Owner User: defaultuser
Home Encryption: not supported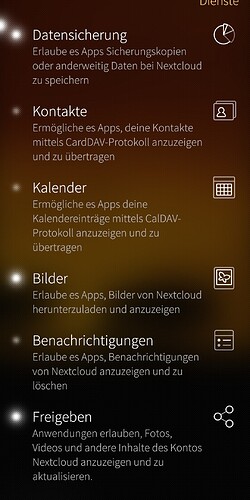 ---