No issues on this site with the current (3.4.0.22) default browser.
The keyboard still overlays the composing window for me, which sucks.
We have an open bug report about that in our internal bug tracker
Thanks for letting us know…
inappropriate?
As written above in the edit I would like to know what makes you think this is inappropriate?
Please make use of PM…
You are right. I was using the forum with the Gemini PDA (no virtual keyboard). On my Xperia XA2 the composing window is hidden by the vk when replying to posts (but not when creating new posts)
So, something changed. I guess new version of forum SW?
See log out button gone?.
Minor annoyance but something I hate also in real life web site behavior, change as change is progress and no change is standstill? But moving buttons around or changing name to icon or such stuff is just … imho (do not take this too serious

).
Another thing I noticed is that the buttons in the hamburger menu (Latest, Unread, Badges and so on) inside the native browser in SFOS 3.2 do not work anymore. But only in landscape orientation, in portrait they work as usual!??
The newer browser in SFOS 3.4 does not show this behavior!
(latest) SFOS version 4.1.0.23 EA
and SF browser still cannot let me know what is wrong with trying to post something on this forum. And especially only let me dismiss this popup in landscape mode.
Please see the screenshots (portrait and landscape):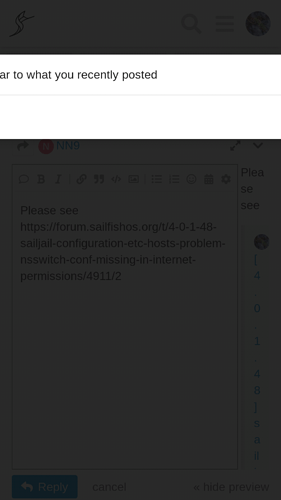 Curious, no fix ideas in last 8 months? This blind typing just isn't fun anymore, esp. when predictive tezt input isn't qvqilable on aarch64.
Actually, we do have fix ideas. And I believe there is even a good chance that we will get the fix in the next release.
The workaround works good on Verla (4.2). i configured it that the input field is on top of the Keyboard.
But after I updated sfos to 4.3 unfortunately the input field now appears in top of the screen.
What do you mean? I'm writing this on 4.3.0, and the input field is exactly where it's supposed to be: on top of the keyboard. No workarounds necessary.
You are right. It is fixed. But I didn't read anything about it. According to that the userContent.css not deleted, which led to the strange behavior.