This forum is an excellent idea. I think it'll prove to be of great value.
Are there any account configuration options anywhere within the site?? I guess someone needs to be a naysayer and I don't like it. This is one of those web UI's that I call "the endless web page". Threads scroll and scroll and scroll and scroll and scroll and scroll and scroll…until theoretically your device runs out of memory and crashes. Who in their right mind thinks that's a good idea?? If there is a thread with 200 replies, does that mean every time I want to read reply 201, 202, etc. that I must load everything post that came before it? Completely wasteful.
I am happy that the UI doesn't seem to stall when I disable Javascript. But another site (which I don't read anymore) https://club.myce.com would degrade to a paginated UI without Javascript, which doesn't appear to be the case here.
Comments?
If it's like Mozilla's Discourse forum, no. If the first new post is 200 it starts there. If you then scroll up it loads more at the top.
I think, but don't know, that as you scroll and load more posts it 'throws away' posts at the other end.
Clicking a thread link does jump to the most recent post, and using this thread as a guide, note how a desktop web browser's scroll bar keeps getting smaller as you move towards post #1. So I guess you are half right. I am a strong believer in the KISS principle and still prefer an option to paginate.
Oh, and I did find site configuration options by clicking on the upper-right profile picture (?) icon, then the username on the menu, then Settings. While it's a common design decision today, I also find it ridiculous to have to hunt for settings when there is so much negative space at the top of the page. "Log Out" should be 1 click, not 3.

Never used Discourse, so I'll just have to learn all over again, but hey… it looks nice at the a first glimpse.

Seems very nice as first impression. But writing here is hard, as keyboard goes over reply box and you can't see what you're writing.
Hm, I'm still at SFOS 3.0.1.11 on a Jolla Phone, so not using the last browser engine update but this site seems to work fine and I don't have that problem vk covering text box.
I tried entering a reply (to thread) in mobile view - which is the default on my Jolla C - with both the Jolla browser and Firefox for Android. The Jolla browser's vkb hides the reply box whereas Firefox doesn't. It may not always do that but it repeatably did so for me.
You could experiment with desktop view (hamburger menu, top right); that seems to allow you to shift the reply pane up.
Yeah, Desktop view works better for writing messages. But still, a shame the official browser gives this kind of experience by default.
Yes, but …
https://talk.maemo.org/showthread.php?p=1568257&postcount=9

And to add to that:
only in landscape you have the preview on the right whereas in portrait you see the options 'hide/show preview' but you do not see it!
Yes that would be great


Discourse is an ok choice for a community forum.
I wonder though: is there an app for sailfish to use this forum?
I mostly used tjc on my phone (thats why i had typos all the time :P)
If not: kind of a must for a mobile os to have its community platform accessible via phone (btw - i think ubtouch also uses discourse)
Yeah, changing it to a full blown client is a bit daunting, oauth and credentials storage seem like just the tip of the iceberg, topic posting/editing, comment posting/editing, messaging, notifications, profile functions… Doubt I'll have both skills and time to tackle all that and on top of that forums also behave differently when logged in vs anon access (but at least topic tracking would be solved this way automatically). I'm hoping 3.4.0 browser changes will make it at least somewhat useable (then again source is open and contributions welcome, just very unlikely it will evolve into a proper client by myself https://github.com/szopin/harbour-sfos-forum-viewer )
I'd be willing to help anyone with graphics and UX stuff in case he is committed in creating a full featured app BUT the last thing i want is going through the work only to have something abandoned in the shop/openrepos that will not be good.
50
So, @JSEHV
now heading for the 100?

I really like the new forum so far. It is much easier to follow the discussions here than on TJC.
Yup, it's enough to update the source url and almost everything works out of the box (fdroid has malformed json in category view causing json.parse error, but purism forum works out of the box, might do a side release as a generic viewer for discourse forums, is there a list of those somewhere?)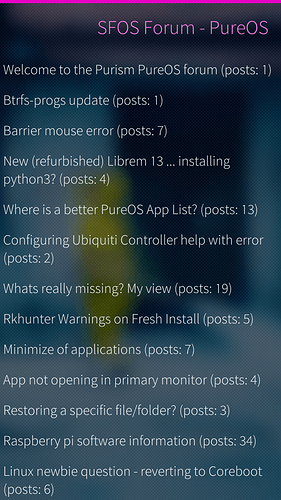 On the plus side managed to check and thread with 347 posts works with current approach (chaining 327 &post_ids[]=…) was worried would hit a limit on either url length or forum side