Funny you should mention it. I'm in contact with support. It's in the works.
I use Fahrplan 2.0.42.2 at this time on a Xperia 10lll.
Do you plan to add an option for Saving the current connection?
I have an Idea for optical changes in the App:

It would be more user-friendly if you made the heading in two lines. So the Target destination is better to read.

The shorted words in line two looks not good. (I know you do this because of the space on mobilephone- screens).
I think Icons are a better way here. See my Screenshot with declaration:
The last one concerns the width of the columns. If there are more than 2 Vehicles on this connection, the third on is a litle bit in the Arrival-column .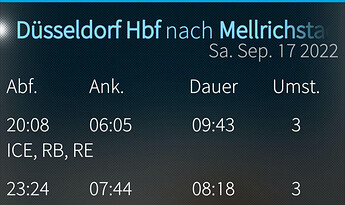 Take more space for the Departure column please.
These are only ideas from me. I like your App.
The first two suggestions are good ones. I'll make some tickets for these. The Vehicle line can become much longer than three, so I don't think that issue can be addressed with column width. Thanks!
I'm glad to hear that. Let me know if you would use my icons for that.
Good point. Here would then be more lines a better solution to create more space for vehicles.
Sure. SVGs? Do you have github access? Thanks!
Yes, I have. I will contact you there about that.
A good timetable app is the one from SBB and only minimal information are showed. For instance, Departure and Arrival time are useless.
| Departure | Arrival | Duration | Changes |
| --- | --- | --- | --- |
| 08:00 | 10:00 | 2:00 | 3 |
Could be:
| | | Change/Icon |
| --- | --- | --- |
| 08:00 → 10:00 | 2:00 | 3 |
I think the arrival icon is slightly too big, to to fit the others.
Just my five cents.
9292.nl timing fixes and some translation updates:
Up on openrepos and building on chum as I type.
Thanks to wheelseal and dyraig!