REPRODUCIBILITY: 0% (not specified)
OSVERSION: 4.4.0.72
HARDWARE: Sony Xperia 10 III - xqbt52 - xqbt52 - 1.0.0.176 - aarch64
UI LANGUAGE: English (UK) (user: en_GB, os: en_GB.utf8)
REGRESSION: no
DESCRIPTION:
The data counters for SIM1 don't appear to work, all values show zero. The counters do work for WLAN.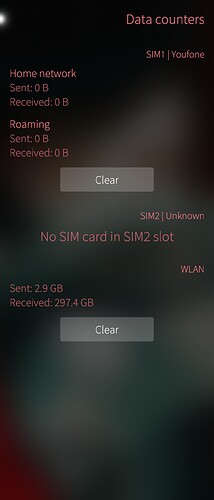 PRECONDITIONS:
STEPS TO REPRODUCE:
Use mobile internet for an hour or so
Go to Settings > System > Data counters
SIM1 shows 0 bytes for all fields
EXPECTED RESULTS:
I want to be able to estimate how much of my data bundle I used up.
ACTUAL RESULTS:
No way to tell because all values are stuck at zero.
MODIFICATIONS:
Patchmanager: no
OpenRepos: yes
Chum: yes
Other: no:
ADDITIONAL INFORMATION:
I've been using the phone and mobile data for months now, so it appears it has never worked to begin with, while wlan counters have been working (it says received hundreds of gb).
Device Owner User: defaultuser
Home Encryption: enabled
---