REPRODUCIBILITY: 100%
OS VERSION: 4.4.0.64
HARDWARE: Sony Xperia XA2
UI LANGUAGE: French
REGRESSION: not sure
DESCRIPTION:
When there are no scrollbars in a web page (in the default browser), the addres bar is impossible to hide which might hide elements from the web page. It's also not possible to interact with the elements hidden behind the address bar.
I uploaded a simple web page with the problem here: https://blog.antoyo.xyz/page/
PRECONDITIONS:
Having the default web browser.
STEPS TO REPRODUCE:
Open the default web browser.
Navigate to https://blog.antoyo.xyz/page/
Notice that you cannot see the button at the bottom left (above the bar):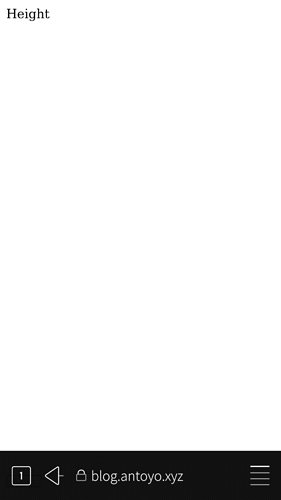 (you can notice the button behind the translucid address bar at the bottom left)
EXPECTED RESULT:
The expected result is to have a way to hide the address bar even when there are no scrollbars.
Someone suggested that the same gesture "swipe down" should hide it like when there are scrollbars.
ACTUAL RESULT:
The address bar cannot be hidden.
MODIFICATIONS:
Not relevant.
ADDITIONAL INFORMATION:
Google Chrome on Android works fine: