REPRODUCIBILITY: 100% (always)
OSVERSION: 4.5.0.16
HARDWARE: Sony Xperia 10 III - xqbt52 - xqbt52 - 1.0.1.12 - aarch64
UI LANGUAGE: Deutsch (user: de_DE, os: de_DE.utf8)
REGRESSION: yes (since: 4.4.0.72)
DESCRIPTION:
New warning, which was not shown in 4.4.0.72
PRECONDITIONS:
Signal was installed before update.
STEPS TO REPRODUCE:
After each reboot, a warning appears.
Wait a moment
That's all.
EXPECTED RESULTS:
No warning.
ACTUAL RESULTS:
Warning appears after each reboot
MODIFICATIONS:
Patchmanager: no
OpenRepos: yes
Chum: yes
Other: none specified
ADDITIONAL INFORMATION:
Device Owner User: defaultuser
Home Encryption: enabled
Warning: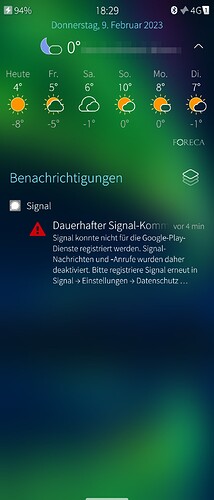 Reading: SFOS 4.5 feedback thread - #76 by direc85
I updated mircoG 2.24.-214816 in the F-Droid store and restarted the phone; no change.
---