Thank you for your answer. Interesting news.
Installed today Sailfish to my Xperia XZ3. Flashing went smoothly (using Linux Mint) and so far everything what i have had time to test works. Not tested all functions eg. bluetooth and battery consumption but so far all good shape.
Bluetooth seems to work the same as in the aosp9 port. And i didn't see any bugs reported. So its probably fine.
True - I have been using AD files on XZ2c that I pulled from XA2, but won't work anymore. I guess since AD source is unavailable, would have to pull files fro aarch64 device, whic is only Xperia 10, I think…
There are issues creeping up that look to be caused by underlying BLOBs used by AOSP10 and, via that, SFOS port. In particular:
relatively large idle drain
probably GPU driver causing low performance while interacting with Lipstick
wireless charging broken
Full set of current issues for AOSP10 based port listed at Issues · sailfishos-sony-tama/main · GitHub
When discussed with Sony AOSP developers, words AOSP10/4.14, ODM (aka BLOBs), Tama, and FUBAR have been used in close relation to each other.
So, a word of warning, you may want to see how it works out and not flash yet on your daily driver.
For me power consumption on idle on one night was 5% (~23:00-8:00, airplane mode on).
Glitch on screen while swiping or unlocking are seenable and sometime after reboot screen is fully pixelated.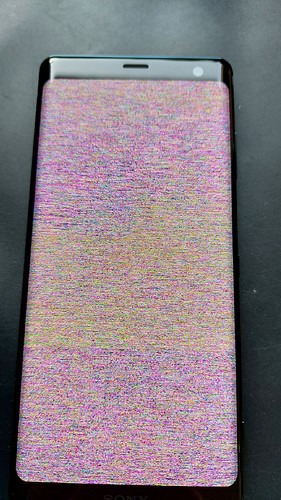 I've seen that once for few sec in the first boot after flashing, swiping and unlocking from time to time it shows a glitch line usually close to the top of the screen, it does not affect apps.
Does this pixelation occur immediately during the boot or after success boot with all PINs entered and screen switched off / on?
If pixelation occurs later after the boot screens have passed, GPU frequency bumping may help. If early in the boot then it is some other issue which I have no idea how to resolve. Assuming that it is rare, XZ3 users will have to live with it if we switch to AOSP10.
It has only happened to me twice so far and it happens before I enter the lock code when i boot the phone.
Only way to get rid of pixelation screen is force shutdown (long press power button and then normal boot).
I will write about it in the docs. As well as mention that we do not have any plans to fix it.
New AOSP10/aarch64 based release is out. I am going to switch the port to this base and support only it.
The images are uploaded and available as usual on the port project page. Those are needed for AOSP9 base users as the only way to switch the base is to reflash.
For alpha release users, see specific OTA instructions as described with the release notes.
BTW Are all the old bugs present on github still valid for aosp 10/aarch64?
Cleaned up a bit. Few were resolved by moving the base and adding few options to the kernel.
I'll ask it here -before opening a bug wherever appropriate- cause it might be a general issue instead of a port one.
Do you get haptic feedback when typing numbers on the calculator?
Unless it is proven otherwise on Xperia 10 II, I am sure it is upstream bug and not of the port.
Can reproduce it on my Tama.
it's also reproduce-able, i.e. no haptic feedback on XA2 too
(ps blame autocorrection for unproduceable before)
I don't understand your reply: do you get haptic feedback in calculator? I don't on Tama.
OK. i'll file bug. (20 charrsss)
There is no haptic feedback on the Xperia 10 II in calculator. Neither in phone dialer.
I have changed zgovernor policy to avoid touching CPU. Not sure it is related - could be casual - but there are some issues with the battery level reporting on Tama/AOSP10/aarch64. Issue at Battery level is not always reflecting its actual state · Issue #157 · sailfishos-sony-tama/main · GitHub . Problems disappeared after couple charge/discharge cycles for me when I changed zgovernor policy.
Policy update is incorporated into new config packages and you could get it by update through zypper and reboot:
# as root
zypper ref
zypper up
reboot

By accident, kernel packages (but not kernels) were rebuilt. So, those are pulled as well. After reboot, you will get into SONY logo, reboot again bit later, and then to GUI. As with any update involving new kernel.
Keep an eye on battery indicator and let me know via Github issue whether you had the problem and whether it disappeared after some time with the new settings.
I suspect it could increase power drain, but hard to judge how much. For me drain seems to be OK.