VoLTE is SIP through an IPSec-Tunnel to your provider. So you can see what needs to be fully implemented before… And it implicates that Voice over WLAN will work then too!
VoLTE is SIP through an IPSec-Tunnel to your provider. So you can see what needs to be fully implemented before… And it implicates that Voice over WLAN will work then too!
I seem to recall that the SIP bits for sailfish os are there and only the ui/glue to the dialer is missing to have it working. Right???
If that is the case its shouldn't be that hard assuming they want to get it to work.
https://twitter.com/KoolAid_Oh_Yeah
This guy was working on SIP for Sailfish OS and it seams to work great, but apparently you still need a server and an account for using the function. But the app and gui already looked awesome
Yes, you need a SIP server to use SIP


That's no different with VoLTE, though, just that the settings are provisioned to the phone by a telco.
I do not see it coming soon™.
And discussing it here will not bring it any earlier to us.
Just see this request from 2013:
https://together.jolla.com/question/415/sip-voip-native-integration
A shame.
Or read any of these 'questions':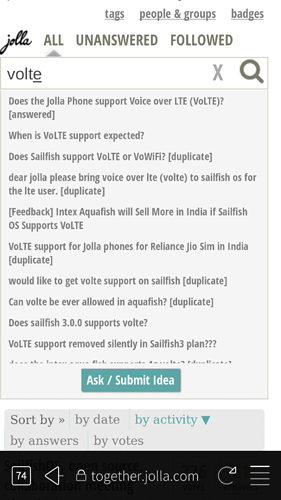 I mean technically you would not need a server. There is nothing inside the SIP protocol that would prevent one from using SIP peer-to-peer.
Yes, totally disappointing they haven't implemented SIP back in 2013 after N900, N9 (and even Symbian) all had SIP integrated. Good SFOS has at least a native SIP app


VoLTE is another matter, I guess that will require implementing all the nightmarish set-up and provisioning protocols that telcos are known to be hated for.
I guess I'll have to stop using SailfishOS once T-Mobile boots non VoLTE users from the network. Too bad. Though I was looking for a proper FOSS alternative anyway, but I'd rather use something Linux/Wayland based, not Android.
I guess it was also one of the reasons AquaFish failed so badly in India being released pretty much at the same time VoLTE-only carriers started to be widely popular.
Unfortunately switching to AT&T would also delay the inevitable only by a year as they're also planning to phase-out support for non-VoLTE devices in early 2022.
From the operators perspective abandon 2G makes some sense. If there is no VoLTE the call is handled in the 2G network. (3G and 4G are only packet based. There are no more circuit switched connection as in 2G networks.) Therefore 2G has to be deployed along 4G/5G at the moment.
This also causes cases, where in Sailfish you have Internet by 4G, but can't make calls, as there is no 2G network available. Could all be solved by implementing VoLTE…
You can hope that some some European or Russian operators have the same plan. Then Jolla could move forward. Otherwise, yeah, you have to abandon Sailfish or the Operator.
There won't be any operator left in a few years but I guess a data-only SIM coud maybe work.
From what is written in that link, VoLTE is done by the modem and "nothing complicated is required on the postmarketOS side." The only job is to configure the Profiles.
And I cant imagine, that the "Xperia"-Sailfish phones are equipped with modems, that can't handle that.
So how can you use it let's say on Xperia XA2?
False. 3G/UMTS is dual-mode, just like 2G/GSM.
True.
Whereas 3G can handle data and telephony at the same time. And 2G can only handle one at a time (stopping data transfer when calls are made).
So all of them are different in some aspects.
Also false, but data over 2G is already not very much use.
Combining CS and PS puts even further limitations of the rates you can achieve (and isn't always supported) but technically, it works.
Indeed each operator has a list what type/model/branded/not-branded is supported. The beloved J1 hardware seems not ready for it.
Technically GSMA/3GGP standards apply, e.g. 'IR.92 - IMS Profile for Voice and SMS', where SIP is just one of a few "misc." parts

ORLY?
Then there is a lot of fud on the net spreading this.
Maybe related to the circumstance that it 'feels' like there is no data at all when calling and using data at the same time?
I tried a quick search on the net but found no reliable source that would confirm or negate this…
Let's not diverge this topic further. (Probably my bad for biting)
Feel free to use private messages, or ping me in some new thread if you wish to continue.
But this is that anyway: