REPRODUCIBILITY: 50% (sometimes)
OSVERSION: 4.4.0.72
HARDWARE: Sony Xperia 10 II - Dual SIM - xqau52 - xqau52 - 0.0.2.152 - aarch64
UI LANGUAGE: English (US) (user: en_US, os: en_US.utf8)
REGRESSION: not specified
DESCRIPTION:
The 'shortcut' message keeps appearing under 'Enter security code' every time the device is unlocked once it's been unlocked to access shortcut once. This continues until.a.reboot.
PRECONDITIONS:
No special preconditions AFAIK
STEPS TO REPRODUCE:
1.Unlock device from shortcut, e.g. Use shortcut menu to set an alarm.
2.Unlock device with pin and lock it again.
3. Wake uo device from locked state with button, slide the cover away to reveal keypad. Note the 'shortcut' message even though device isn't being unlocked from shortcut.
EXPECTED RESULTS:
'Unlock to access shortcut' message should only appear when unlocking from a shortcut operation.
ACTUAL RESULTS:
'shortcut' message appears on unlock screen when unlocking normally with pin. After rebooting device returns to expected behavior.
MODIFICATIONS:
Patchmanager: no
OpenRepos: yes
Chum: yes
Other: none specified
ADDITIONAL INFORMATION:
I'm not sure how frequent this problem is, or what other conditions are required ti reproduce. Some days the problem doesn't appear using steps above, other days it does… I know, worst kind of reproducibility.
Device Owner User: defaultuser
Home Encryption: enabled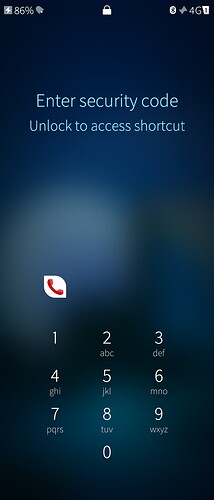 ---