REPRODUCIBILITY: 100% (always)
OSVERSION: 4.5.0.16
HARDWARE: Sony Xperia XZ2 Compact - h8314 - h8314 - 0.5.0.1 - aarch64
UI LANGUAGE: Deutsch (user: de_DE, os: de_DE.utf8)
REGRESSION: yes (since: 4.4.0.68 - aarch64)
DESCRIPTION:
Theres a typo in the German Translation of the Summer-/Winter-Time Entry in the Calender.
PRECONDITIONS:
STEPS TO REPRODUCE:
Have SailfishOS 4.5 with German language set
Open Calender App
Browse to 26.03. and 29.10.
EXPECTED RESULTS:
Instead of the displayed "Am 03:00, werden die Uhren…" reading the correct Form like "Um 03:00 Uhr, werden die Uhren…"
ACTUAL RESULTS:
Wrong typo with the first Word of the sentence. Missing the word "Uhr" after the Timestamp.
MODIFICATIONS:
Patchmanager: yes
OpenRepos: yes
Chum: yes
Other: none specified
ADDITIONAL INFORMATION: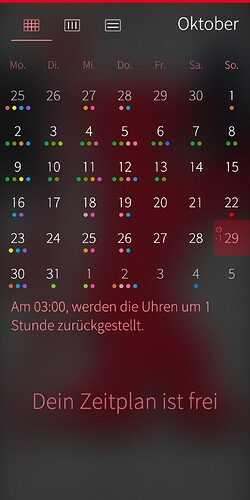 Device Owner User: defaultuser
Home Encryption: not supported
---