Sailfish OS update from Jolla
Since the beginning of Jolla and Sailfish OS, we have had a collection of help articles at Zendesk (https://jolla.zendesk.com/hc/en-us).
New articles have been added over the years and old ones have been updated and so on.
At the end of last year, we decided that many of the articles needed updating and also it was seen as beneficial to move these articles to https://docs.sailfishos.org/
Docs were seen as a better platform mainly since at docs also the community can contribute to the articles.
Currently, we have created 90 help articles to docs, some of these articles are updated versions of the articles from Zendesk, some are combinations of several old articles and the rest are new articles which were missing.
These new help articles can be found at: Help Articles | Sailfish OS Documentation. The latest change was to create the subfolder "Managing Sailfish OS" and move the related documents into it.
Energy from the Community
The Docs provide the possibility to get contributions from the community also to these articles, so comments, feedback and PRs are warmly welcome!
We also encourage you to report documentation proposals and feedback to Issues · sailfishos/docs.sailfishos.org · GitHub
App roundup
If you want your news fast, or want it niche, then social media is the clear winner over traditional news sources. Reddit is perhaps one of the older social media spaces that still thrives, while Mastodon is one of the youngest, still finding its feet in the snowy icelands of the Internet. We have apps to cover both of these in the roundup today, along with an app that now has associations with media of an even older heritage in the form of the New York Times. And in case it's not distraction that you're after, we've also got something to provide very specific and detailed information about air quality: all you need to get you through the rapidly approach summer months.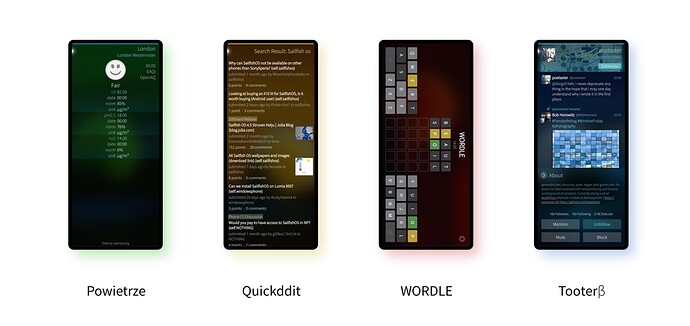 Powietrze
For us northern-hemisphere dwellers, the recent May Day celebrations (known in Finland as "Vappu" where it's a rather big deal) are an indication that Winter has fully given way to Spring, with the enticing prospect of Summer being just around the corner.
But the hotter weather also often brings with it poorer air quality. Pollen, particulates, dust, Nitrogen Dioxide and Ozone all contribute and affect people in different ways.
Powietrze — which is Polish for Air — is an app from Bartłomiej Seliga ( Kormil ) to help you keep track of the air quality in your area. Making use of a worldwide network of air measurement installations and using a combination of APIs from different providers, it will display details for both specific gases, and also a calculation of the overall air quality based on the European Air Quality Index.
For the areas I looked at the data came from OpenAQ, but if you're willing to generate yourself an API key you can also use Airly for additional information.
This isn't the only air quality app for Sailfish OS, and if this is an area that is important to you, you might also like to take a look at Pollenflug from Andreas Wüst ( AndyWuest ). Pollenflug is focused on pollen rather than gases, and sadly is only available as a 32-bit binary, but is nevertheless a nice app if you have a compatible phone.
The latest version of Powietrze is version 1.5.1, with the update fixing both features and bugfixes. You can now copy the sensor values; the user interface has been improved and Sailjail support has been added. It's definitely worth the upgrade.
Powietrze is available from the Jolla Store and OpenRepos.
Quickddit
For a long time now Reddit has become the Internet's Forum. Yet for some reason I've never really been attracted to it. All told, I'm probably not the right person to be writing about it in the newsletter.
Nevertheless, here we are. Quickddit is an app maintained by Sander van Grieken ( accumulator ) for reading Reddit anonymously — if that's what you prefer — or for interacting with it in full read-write mode (replying, editing, saving comments) as long as you're willing to hand over your credentials.
Given Reddit isn't my bag, I thought I'd collect the opinion of my lovely wife Joanna, who unlike me is a regular Reddit user. Her usual method of accessing Reddit is via the official Reddit app on Android. She's not a native Sailfish OS user, so there's a lot to take on here. Despite that she took to Quickddit immediately. After playing with the app for a bit, searching for particular subreddits and reading numerous posts, she came back with her verdict.
"Easy to use" and "straightforward" were her chosen adjectives. "It's as easy to use as the official app on Android" she determined.
After playing with both apps myself for a bit I also noticed the lack of adverts on the Sailfish OS version. However, this was all based on just reading of posts; we didn't test out the interaction capabilities of the app. If any readers would like to provide their own opinion about how good the app is for posting and replying, we'd love to hear them in the comments.
The latest version 1.11.1 fixes a settings bug and improves access to animations. It's available from the Jolla Store and OpenRepos.
WORDLE
In the previous newsletter we featured Mark Washeim's Calcit game, a numerical version of WORDLE. This time we're featuring the actual WORDLE, which has received some nice updates from author Slava Monich ( slava ).
The game requires no introduction, but for the sake of narrative completeness I have to explain it anyway. Your phone selects a five-letter word randomly from its internal dictionary. You're given six consecutive attempts to guess the word and at each stage your the game indicates which letters are correct and in the correct location (green), and which are correct but in the wrong location (yellow). So far so straightforward. But your choices are constrained by the fact that each of your guesses must itself be a valid word, but you're not allowed to re-use incorrect letters from previous attempts.
It's a simple and compelling game, which is why the original developer was able to sell it to the New York Times for a seven-figure sum.
Slava's Sailfish OS implementation is a faithful reproduction of the original, allowing you to select one of eleven different languages for your games: German, English, Spanish, Finnish, French, Hungarian, Dutch, Portuguese, Russian, Swedish or Ukrainian.
The latest updates bring Spanish as one of the included languages and a rather nice landscape mode with split-keyboard around the playing board.
WORDLE version 1.0.15 is available from the Jolla Store, OpenRepos and Chum.
Tooterβ
As Twitter continues to stagger towards an uncertain future as X Copr's Everything App, many in the open source world (and beyond) have taken the plunge into the federated waters of Mastodon.
While Twitter remains one of the only "first-class" social networking apps on Sailfish OS, the gradual improvement of Tooterβ, first at the hands of molan and more recently due to the efforts of Mark Washeim ( poetaster ) (possibly the most prolific of Sailfish OS app developers), has made Mastodon a very accessible network for Sailfish OS users.
If you're already using Mastodon then it's easy to recommend Tooterβ. The latest update improves image, audio and video uploads while also improving the user interface in other areas. I've personally been using it as my main Mastodon client and can attest to the fact that it's stable, intuitive and effective.
The latest release brings it to version 1.1.7, and it's available on the Jolla Store, OpenRepos and Chum.
Repository roundup
If you're wondering where is the repository roundup, no need to worry. Next fortnight will cover this as well.
Please feed us your news
We need your support in writing these newsletters! Please write any possible ideas for future content in the comments below. Thank you!