REPRODUCIBILITY: 100% (always)
OSVERSION: 4.4.0.72
HARDWARE: Sony Xperia 10 II - Dual SIM - xqau52 - xqau52 - 0.0.2.152 - aarch64
UI LANGUAGE: English (US) (user: en_US, os: en_US.utf8)
REGRESSION: not specified
DESCRIPTION:
Tried to.access.email hosted by godaddy.com, but I can't get past the SSO page which gives error that browser is unusual 'try disabling ad blockers . . .'
PRECONDITIONS:
You need to have an email address hoated by godaddy.com
STEPS TO REPRODUCE:
Browse to Sign In in Sailfish browser.
Dismiss the 'download newer browser app' warning since these only point to android and ios apps
Enter login credentials as prompted and tap 'Sign In' button.
Popup appears with 'browser is unusual . . .' message (see screenshot). Login doesn't happen, returned to credentials page.
EXPECTED RESULTS:
Expected to.see.webmail imterface similar/identical to the desktop linux Firefox browser version, read and manage email, etc.
ACTUAL RESULTS:
Can't log in, service complains about browser, dumped back to credentials page. Repeated attempts yield same results.
MODIFICATIONS:
Patchmanager: no
OpenRepos: yes
Chum: yes
Other: none specified
ADDITIONAL INFORMATION:
Update browser notice and unusual browser popup
Device Owner User: defaultuser
Home Encryption: enabled
screenshots…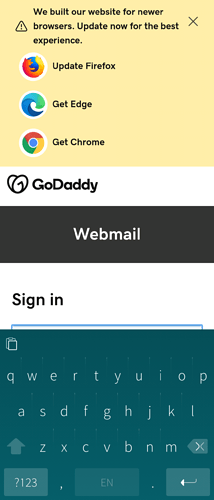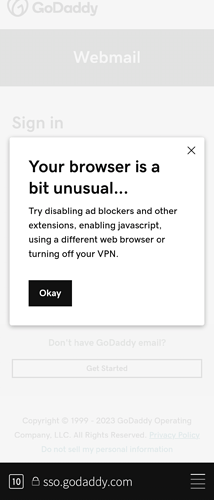 ---