REPRODUCIBILITY (100%):
BUILD ID = 4.2.0.21
HARDWARE: X10 II
UI LANGUAGE: German
REGRESSION: (compared to previous public release: Yes, No, ?):
DESCRIPTION:
Message tells me to delete package feature-xt9 and ofono-alien-binder-plugin.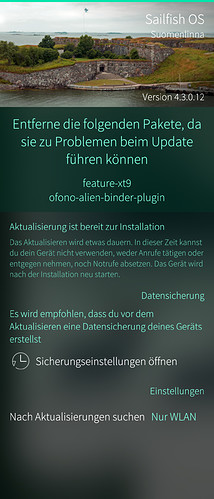 PRECONDITIONS:
I updated all public releases of Sailfish OS 4.
STEPS TO REPRODUCE:
go to settings
load update via w-lan
receive message
EXPECTED RESULT:
Download without warning.
ACTUAL RESULT:
There is the option to install the update when I swipe down. I did not do it yet because of the message.
ADDITIONAL INFORMATION:
(Please ALWAYS attach relevant data such as logs, screenshots, etc…)
What are these packages for? Should I delete them? If yes - how?