After some introduction and considerations, I'll share here the way I renew XA2 GNSS signal path from the motherboard through the antenna to the mysterious top cap (part of the antenna?).
The GNSS term is used here, as it stands for Global Navigation Satellite System, including GPS(US), Galileo (EU), GLONASS (RU), BDS (CN)…
Hardware, why?
##############
Because there are much differences reported between XA2 GNSS capabilities, I believe the Sony Xperia XA2 can have some Hardware problems regarding GNSS.
These supposed problems are bad contacts caused by mechanical pressure, dirt and eventually corrosion (aluminium top cap contacts becoming black).
Here is a method to eliminate, as much as possible, these HW doubts. To avoid, as well, the HW/SW debate: Once fixed, no doubt, we can concentrate on software issues (well…how?).
I did this on 3 XA2 and I noticed a clear improvement in sat signal reception, especially on the last one, these days, which even turned to a no-GNSS device, even with @nekron's patch.It now has very good results and TTFF was very short in the two tests I made since repaired.
I am waiting to make some more tests to report in a further post.
But again: this is not solving the problem completely. Better reception, faster fix but after some time, TTFF inconsistencies may occur.
It is possible too, that touching the GNSS chip antenna's path does reset something and has nothing to do with what I propose here. I am still groping. False positives are possible.
If my objectivity is hijacked by my beliefs, please tell.
"Android has no such problems"
##############################
Such XA2 GNSS problems are not reported under Android.
This would tend to indicate there are no HW issues.
I believe it is not so simple.
Android possibly has much more assistance to determine position, such as phone network, wifi access points, eventually bluetooth proximity, towers positions which are durable and possibly (my own personal assumption only) included with Android.
I have no doubt that Android maker has a big power to collect data to help location even with a bad GNSS signal. And who knows, as said, some helping data could even come with Android itself as a base before actual up to date data are collected.
Fix, and then?
##############
Then, we have to make more tests in strict conditions with precise reports.
We really are walking in the dark regarding this GNSS issues with very few visible helpers and few objective things to test.
Conditions of GNSS use are very diverse. GNSS technology is complex and conclusions are hard to draw.
I am not a scientist and I know that my beliefs can influence my objectivity. Please underline contradictions and incoherences if necessary.
Extract the good juice
######################
The other GNSS threads contain lots of precious reports and remarks. Ideally, these pieces of informations would have to be extracted and grouped.
But they also have a not so good signal/noise ratio regarding tests results IMO. Much lightweight statements are made (by myself included) and useful conclusions are hard to pull.
Think harder
#############
Please read the following pages before to post:
https://www.measurementsystems.co.uk/docs/TTFFstartup.pdf
https://ozzmaker.com/take-long-get-gps-fix/
https://novatel.com/support/known-solutions/gnss-ephemerides-and-almanacs
https://www.e-education.psu.edu/geog862/node/1739
https://gpsbeam.com/what-is-time-to-first-fix/
https://gpsbeam.com/assisted-gps-agps/
These pages were provided by @NodaUK here: https://forum.sailfishos.org/t/hardware-xa2-gps-trial-to-fix-it-for-debuging/10133/28
Further informations:
https://www.e-education.psu.edu/geog862/node/1405
https://en.wikipedia.org/wiki/Time_to_first_fix
https://en.wikipedia.org/wiki/Satellite_navigation_device
---
Some theory
############
Now you have read the above pages :-), here is a tiny summary of major principles and terminology.
TTFF: Time To First fix
A-GNSS (aka A-GPS): Satellite data received by cell towers which transmit them to phones' GNSS (Assisted GPS aGPS -).
Almanac: Orbital Datas common to all satellites. Contains incomplete ephemerides to generate a list of visible satellites. Each Sat has and can transmit the Almanac. Usually updated every day. Download time: 12.5 minutes. Validity: 180 days.
"If the GNSS receiver has some left over almanac and position data,[…] the receiver might begin by knowing the time within about 20 seconds and its position within 100km or so, and this approximate information helps the receiver estimate the range to satellites […] to those likely above its horizon rather than wasting time on those below it. Limiting the range of the search decreases the time to first fix." (The Almanac, Time to First Fix and Satellite Health | GEOG 862: GPS and GNSS for Geospatial Professionals)
Ephemeris: Download time: 30 seconds. Unique and satellite specific orbital data. Validity: 4 hours (from when it was computed!).
No almanac nor ephemeris = cold start = minimum 12.5 minutes in perfect conditions.
Wrong: "Cold start happens after 24 hours". From what I understood from the documention, a cold start happens when the almanac is too old (> 180 days) OR speed over 90km/h OR +100km (60 miles) away from last fix.
In that case, most of the reported cold starts were not cold starts…
Hypothesis:
###########
What causes of our sorrows with XA2 GNSS could be?
-Only hardware? (as users, inc. Jolla, report having no problems)
-A wrong initial position approximate (The GNSS receiver needs to know where it is, to eliminate unnecessary satellites search (sats located under the horizon are not useful!))
-"Blocked" old Almanac/ephemeris data, preventing fresh data to take place.
Your thoughts?
---
Practice
########
Let's go back to initial subject: renew the contacts along the GNSS antenna's signal path.
We'll have to open the device.
Here is not THE right method. Just the one I found.
You may harm your phone. Try at your own risk.
Be patient, don't be in hurry.
Be concentrated.
Be optimist.
Read the whole post before you begin!
Important: Don't remove the top cap!
To pull out the antenna board, I noticed it is much easier and less dangerous for the path's last tiny contacts to keep the top cap in place.
There is no use to remove it and is a pain to replace.
First, remove the back cover.
The idea is to unstick the glue with a plastic board.
I use an old credit card. I file the edges to make them thinner. This allows to get easier under the covers.
To avoid using a metal blade several time, we will use parts of packaging window (correct term please?) as entry for the card, as it often slip off the cover.
---
pic1

Use a cutter. Delicately thread the blade under the lower corner. Don't go further!
Be very careful as the aluminium bottom cap marks as soon as you touch it with the metal blade.
pic2

Slide a part of packaging window behind(under) the blade.
pic3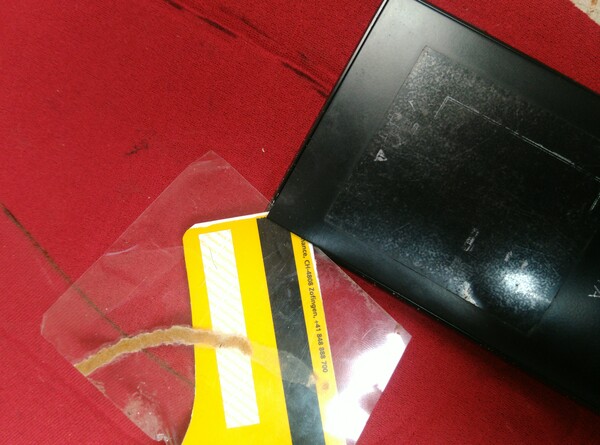 The same with the credit card.
pic4

Thank to my graphic designer talents
, you can see the zone where you should not go too deep under the cover (red). Be especially careful on the left side where the FP reader plug is located. Be careful with the camera too.
You can't go neither under the green "circles" as little prominences go from the cover to the phone's frame.
pic5

The glue is all around the phone near the edges. Unstick the cover and as soon as you freed a portion, thread a part of packaging window under that portion to get this.
pic6

Now, with the help ot the card and your feeling, unstick more, slightly, all around, until the cover moves.
pic7

Be careful: when it will release, the cover might go in one big move and you risk to break the FP reader's plug/cable.
pic8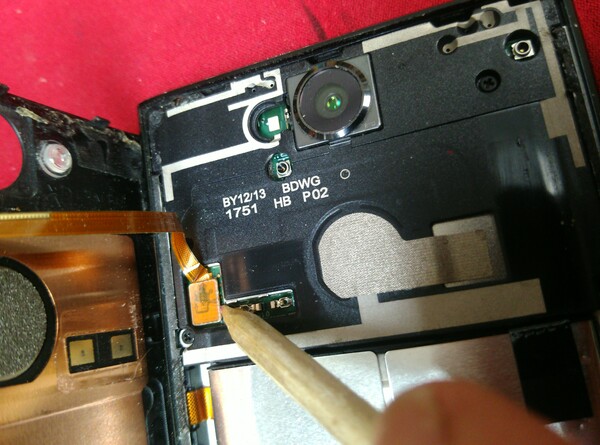 Unplug the plug. Use wood or plastic stick.
pic9

Unscrew these 3 screws (yellow marks, see below):
pic 10

The black board you just unscrewed is the antenna board.
Go slowly as there is some grounding metal tape glued. try not to soil it so you can stick is back later.
Lift it from below. You'll have to bend it a little as there are 2 clips (approx where i draw the yellow circles in the previous pic) holding it.
pic11


Free the board all around.
Be delicate and slow when you arrive on the top. Here (green mark) are the very fragile spring-blades contacts that connect the antenna board to the top cap. Dont force them and remove slowly.
(If, by unluck, your top cap is not present any more, you'll have to push on each spring-blade from the top of the phone to allow them freely to go out the holes)
pic12
Below a pic where you can see the spring-blades contacts: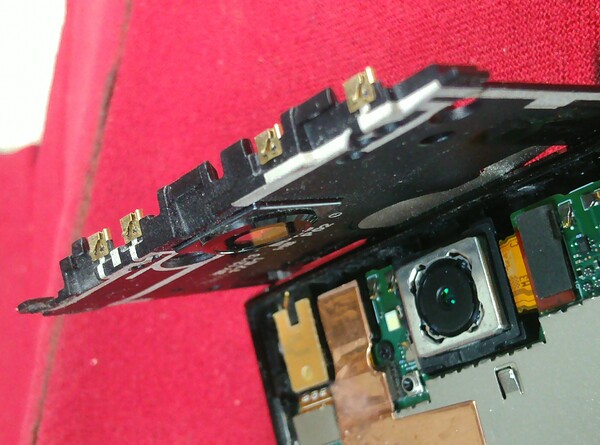 Fragile spring-blades contacts to take care of.
pic13


Here we are.
But take care not touching/soiling the camera and it's glass and think of verifying it has no dust when rebuilding. Don't blow with your mouth as it might send some regrettable drops! Use a photo air pear.
---
---
Cleaning, straighten up
pic14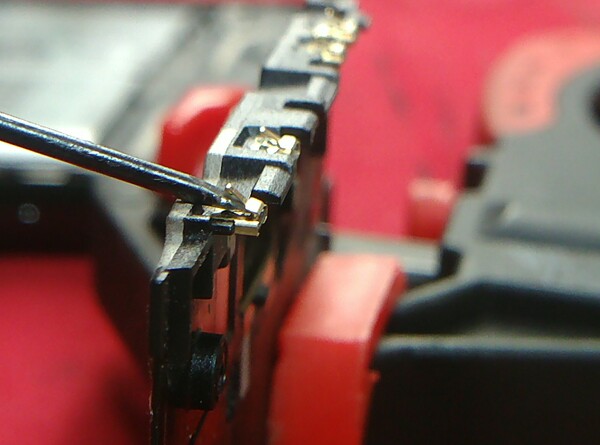 Very slightly straiten up the contacts. I insist: slightly, like their position gains 0.5 or 1 mm.
Dont unfold the thin part but take them at their base. Our GNSS one is the one near the jack plug.
Do the same for all contacts: clean and straiten up a little (picture below).
Except for the ones linking with the back cover, as they are complex and don't seem to be smashed (the twins, near the battery and battery plug).
Also
Clean them with isopropyl alcohol, benzine or anything leaving no deposit (knowledge gap here, please correct me). But no acetone or other which will make melt the plastic.
Depending on the liquid you choose, hear a breathing mask.
pic15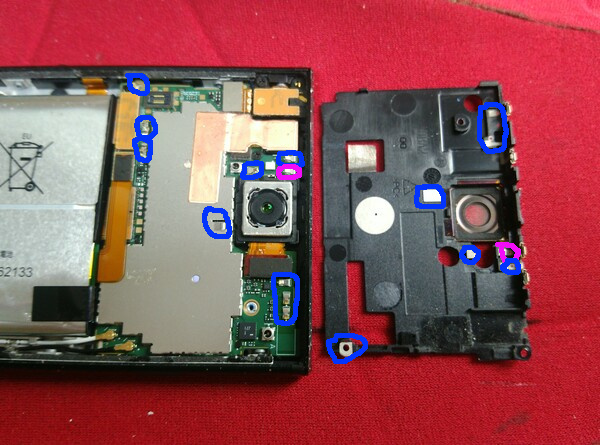 Here are all contacts. Main board to antenna board, Main board to back cover.
As the phone connection still works without the antenna board, I suppose these are the wifi, BT etc. The GSM antenna is perhaps located at the bottom of the phone.
The contact interesting us mostly is the pink one: the GNSS one.
Last point but important IMHO (I forgot to save some pics in the phones cloning process, sorry):
Also clan the top cap's four pads touching the contacts that you can see in the pic 12 and 14. You will see they have become black (aluminium corrosion?).
That's all, I think.
Revert the steps to rebuild the phone.
And don't forget to check that the camera is clean before to set the antenna board.