REPRODUCIBILITY: 2 for 2 on these headphones right now. Seen it once or twice before, but not on my recent daily drivers.
OS VERSION: 4.5.0.21
HARDWARE: Xperia 10 III
UI LANGUAGE: Swedish
REGRESSION: yes?
DESCRIPTION:
PRECONDITIONS:
When connecting Bluetooth headphones, they show up on the lockscreen controls instead of whatever media you have paused.
And when pausing, it "takes over" again.
In this mode the controls do nothing.
STEPS TO REPRODUCE:
Have paused media
Connect Bluetooth Headphones
Alternatively
Pause media with headphones connected
EXPECTED RESULT:
Media info keeps showing on lockscreen.
ACTUAL RESULT:
Headphone info shows on lockscreen.
MODIFICATIONS:
None.
ADDITIONAL INFORMATION:
Normal playback: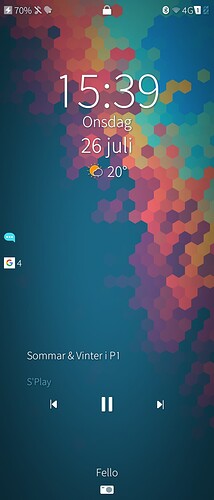 After pausing: