REPRODUCIBILITY (% or how often): 100
BUILD ID = OS VERSION (Settings > About product): 3.4.0.24
HARDWARE (Jolla1, Tablet, XA2,…): XA2
UI LANGUAGE: English
REGRESSION: (compared to previous public release: Yes, No, ?): ?
DESCRIPTION:
After trying to create an Nextcloud account, which failed on sign in, there are one grayed out Nextcloud account in settings / accounts for each failed try. A try to open one of the grayed out accounts hangs settings.
PRECONDITIONS:
STEPS TO REPRODUCE:
Create new nextcloud account
Enter correct server address, but with invalid path (eg. without double / at the end)
Create account
try again, and again etc.
EXPECTED RESULT:
Only sucessfully created accounts should appear in the account menu.
ACTUAL RESULT: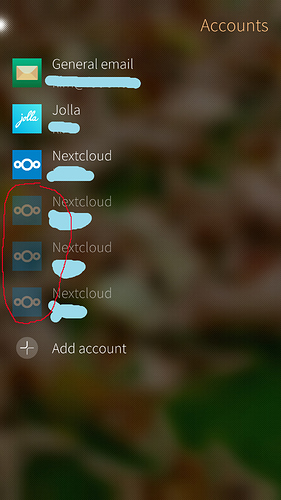 ADDITIONAL INFORMATION:
(Please ALWAYS attach relevant data such as logs, screenshots, etc…)