REPRODUCIBILITY: 100%
BUILD ID: sailfish-browser 1.18.33.1 1.19.2.jolla, Sailfish OS 3.3.0.16 (Rokua)
HARDWARE: Xperia 10 - Dual SIM (i4113 / i4113)
UI LANGUAGE: en
REGRESSION: No
DESCRIPTION:
Google pages detect "outdated" browser version and refuse to load.
PRECONDITIONS:
Have a working Google account
STEPS TO REPRODUCE:
open Browser
go to e.g. https://accounts.google.com
type in login name
observe warning about outdated browser version
EXPECTED RESULT:
Should be able to log in
ACTUAL RESULT:
Not allowed to log in
ADDITIONAL INFORMATION:
Sorry the screenshot is in German, I can not change the Google region detection: actually I can, by changing the URI.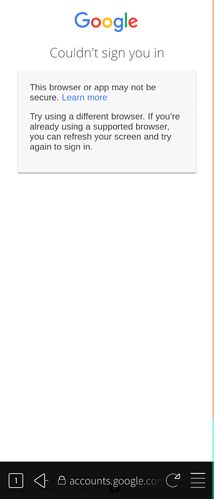 Screenshot