REPRODUCIBILITY (% or how often): 100%
BUILD ID = OS VERSION (Settings > About product): Sailfish OS 4.2.0.21
HARDWARE (XA2, X10, X10 II, …): XA2
UI LANGUAGE: German
REGRESSION: (compared to previous public release: Yes, No, ?): ?
DESCRIPTION:
Birthday Calendar not shown If I will create a new event
PRECONDITIONS:
STEPS TO REPRODUCE:
Open the top menu of the Calendar-App to create a new event
Tap on "Calendar" to open the side with your stored calendars
EXPECTED RESULT:
Show Private Calendar
Show Birthday Calendar
ACTUAL RESULT:
Only the Private Calendar is shown
ADDITIONAL INFORMATION:
If I open the Calendar Manager in the Calendar-App all two Calendars will be shown and are selected.
With earlier versions of Sailfish OS this problem already existed.
Also a factory reset or re flash brought strangely nothing.
Calendar Manager: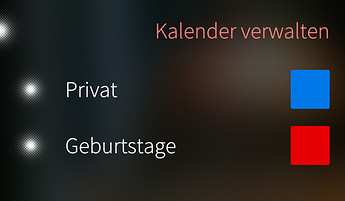 Select Calendar (on the "Create new event" Page):