So I was wondering that because of for example Sony Xperia 10 phones are quite tall due the 21:9 aspect ratio, could the typical application grid in SFOS be replaced with Windows Phone style application list instead? Like this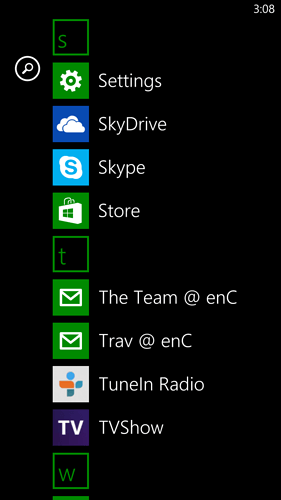 So basically you could scroll the apps just by swiping up and down, and maybe even search them just by inputting character by character in a search field. This feature could be switched on/off from the menu. I mean I've seen applications already listed with this vertical style in some thirdparty app settings, so adding this kind of feature shouldn't be a stretch at least I think so.
Anyway, the reason I request this is because these larger phones requires two hands in certain cases, and I think that's just unergonomic. Besides I think that the UI should be usable with one hand no matter the size of the phone. And also the other reason I think this would improve SFOS is that because of the application grid could be bit too verbose sometimes, especially if you're searching that certain app you don't use daily but you have it there because you might need it sometimes, so a nice list with icons and app name on its side would be less distracting.