REPRODUCIBILITY (% or how often): 100%
BUILD ID = OS VERSION (Settings > About product): 4.3
HARDWARE (XA2, X10, X10 II, …): XA2
UI LANGUAGE: Ger
REGRESSION: (compared to previous public release: Yes, No, ?): ?
DESCRIPTION:
https://app.luca-app.de/webapp cannot use the camera.
Situation: Wanted to go to the star dome and had to register with Luca, but I don't want to install it. Corona Tracing app from F-Droid was not able to scan the QR-code, so I tried the camera to enter the webapp.
PRECONDITIONS:
open webapp with native browser. Testers may need to fill in fake data first, if they have never used it before.
STEPS TO REPRODUCE:
Open https://app.luca-app.de/webapp in native browser
Button "selbst einchecken"
EXPECTED RESULT:
Camera is started on website to scan QR code
ACTUAL RESULT:
Website shows error: Camera not supported in this browser.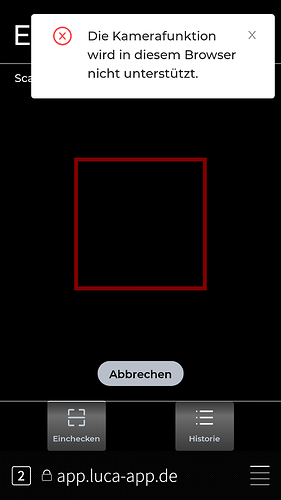 ADDITIONAL INFORMATION:
(Please ALWAYS attach relevant data such as logs, screenshots, etc…)