REPRODUCIBILITY: always since it suddenly started today
OS VERSION: 4.5.0.19
HARDWARE: Xperia XA2
UI LANGUAGE: German
REGRESSION: new
DESCRIPTION:
Today AlienDalvik stopped working on my phone. There was no update or any installation that I could link it to. When I try to start it from settings menu it seems to load for some time and then it says cannot start.
PRECONDITIONS:
happens always
STEPS TO REPRODUCE:
start the phone
try to start AlienDalvik
Cannot start
EXPECTED RESULT:
AlienDalvik should start up
ACTUAL RESULT:
AlienDalvik loads for some time and after that it says "cannot load"
MODIFICATIONS:
ADDITIONAL INFORMATION:
I tried
systemctl status aliendalvik.service
and got this result: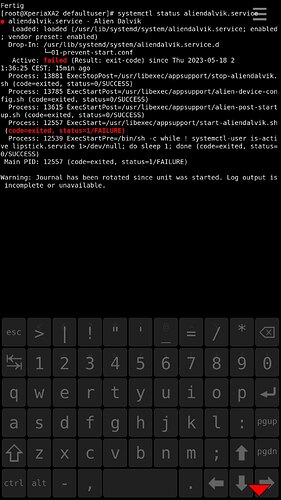 This doesn't really tell me alot.
I also tried removing and installing again from Jolla store as well as with pkcon but this didn't fix the problem.
I have searched and found alot of similar problems but most were a litte bit different and started with some SFOS update. I couldn't find my specific problem.
Any help or ideas what even is the actual problem are very welcome