Hi, involved devices:
Xperia 10 Dual SIM, SFOS 3.3.0.16 (Rokua)
VW Car Kit H41, SW version 0468
Trying to pair (starting from the phone) works, but the connection only offers media functions (A2DP), and not phone functionality (calls, contacts).
Likewise when starting the pairing from the car, the phone is found, but again only media connection is listed.
The paired device settings on the one shows the car kit offering all the necessary profiles.
Showing the phone on the car kit settings only lists media support, not call support, both when searching for a new device, and when listing the connected/paired ones.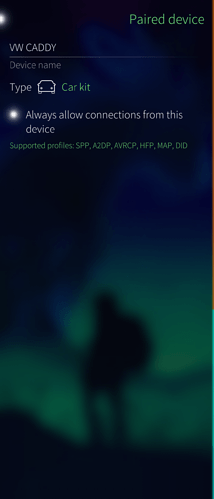 Please Note I know from the various Release Notes, and several threads on TJC that there are various issues around bluetooth and car kits etc.
Please keep this topic about HFP (calls, addressbook) not working, not the other way around. If you have the problem of calls working but not media, please open a separate topic about that.